THE SMELL OF NAPALM
IN THE MORNING
Back in the "Black and White Days" of 1966, I was recruited by the Far East subsidiary of Standard Oil of New Jersey to ultimately work in Southeast Asia as part of the dead-in war effort there. It was a compelling argument to be your own person with no uniform requirements though there would be deniability of your presence if something went south. Before being shipped out, I was sent to New York for training where I became an expert on the marathon Paris Peace Talks to end the absurd Vietnam War. Another assignment of mine was to recruit other hapless lads like myself to follow the same path. Normally, the candidates had been screened before I came in for the closing which was a very liquid lunch at the Toots Shor Bar at 51 West 51st street and very near our office at 15 West 51st.  It was a short, if not inebriated, commute. Strangely, many years later I developed a friendship with Sam Glazer, the owner of Mr. Coffee. The product was promoted by Joe DiMaggio, shown here with Toots Shor and Marilyn Monroe. Joe DiMaggio went to his grave firmly convinced that the Kennedys had Marilyn whacked given her potentially embarrassing relationships with that family.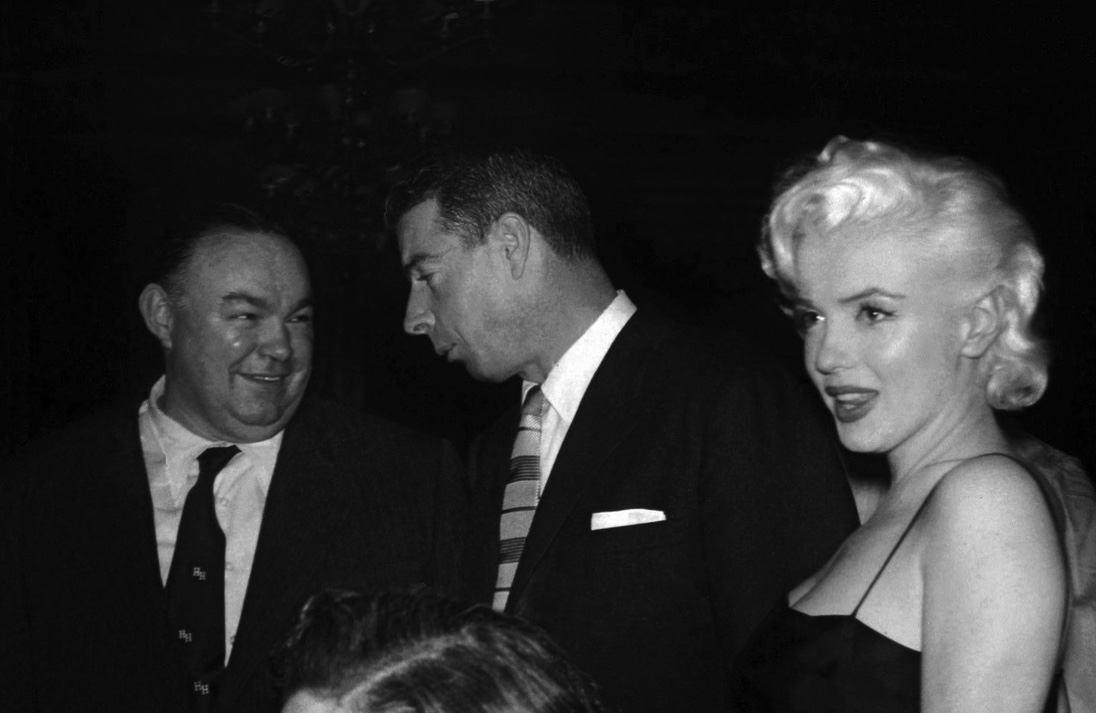 On one occasion, I was asked to go to Columbia University to see if I could persuade some Ivy League type MBAs to head out to parts unknown. It was not a difficult task if their alternative was an I-A Selective Service draft classification. On this occasion there were massive, somewhat violent, demonstrations against Dow Chemical which had recruiters on campus that day.  Fortunately, the Francis Ford Coppola movie, Apocalypse Now, was not released until 1979 as Robert Duval made it clear in his comment that he loved the "smell of napalm in the morning" and that "napalm was, in fact, jellied gasoline" following Dow Chemical's treatment of Esso's gasoline. As I was all alone, I would have had some difficulty fending off a mob of protestors at Columbia had they made the connection from Dow to Esso. Not long after that time, I became accustomed to being all alone in northern Laos.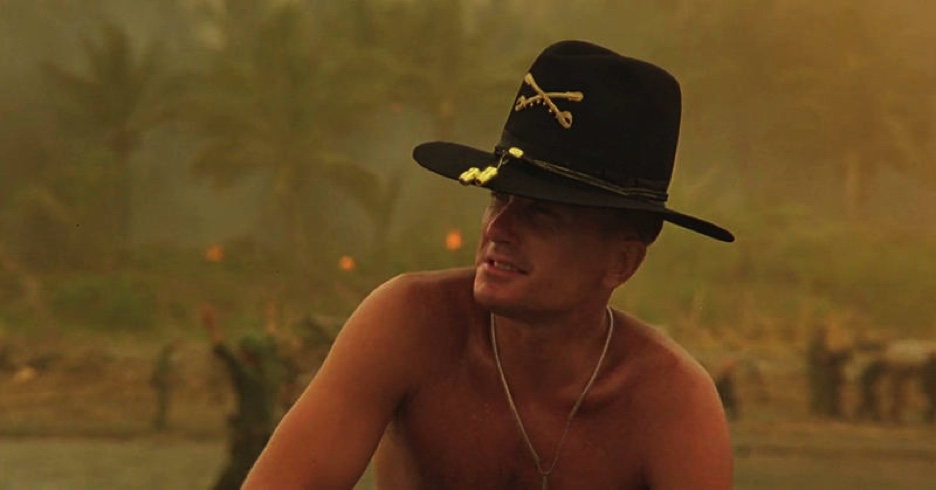 As I write this bit, I am in Ho Chi Minh City some 30 miles northeast from Trang Bang where a tragic napalm attack occurred fifty years ago.  CNN recently published an article entitled 'Napalm Girl' at 50: The Story of the Vietnam War's Defining Photo.   Photographer Nick Ut happened to be on hand June 8, 1972 to capture this image of the Army of the Republic of Vietnam (southern alleged ARVN good guys) dropping napalm bombs on Trang Bang to clear The Peoples Army of Vietnam (northern alleged PAVN bad guys) that were thought to be on the highway.  South Vietnamese civilian villagers and ARVN troops were holed up inside a Buddhist temple.
The ARVN soldiers urged the villagers to flee the temple which was one of countless mistakes made in this conflict as the ARVN bomber pilots assumed they were PAVN soldiers and napalm was dropped on innocent civilians. Nick Ut captured one of the most publicized and heartbreaking images of the war.  Most alert adults of this era would have seen the image of Phan Thi Kim Phuc running down the road with her clothing having been burned off her body. Ut was instrumental in saving Kim Phuc's life by forcing uncaring medical staff to treat her or he would photograph them and disclose their failure to save her life. Recently, Ut and Kim Phuc presented the image of her in the center background behind Ut and Kim Phuc to Pope Francis in St. Peter's Square.
Nick Ut was awarded the Pulitzer Prize for spot news photography in 1973 and his image was officially named the "Terror of War," though it became known by the nickname "Napalm Girl." His "World Press Photo of the Year" appeared on the front pages of more than 20 leading US daily newspapers.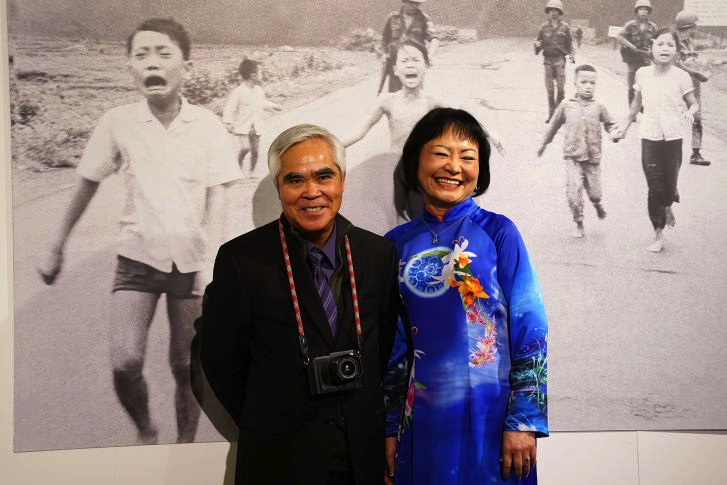 Over the years, Kim Phuc has received countless medical treatments and operations. She was granted political asylum by Canada in 1992 and concluded she could use her personal tragedy for a greater good.  She established Kim Foundation International , a charity that provides aid to children of war and was named a United Nations Goodwill Ambassador to enable her to address the power of forgiveness around the world.
The carnage that day was not restricted to Kim as Nick had numerous images including a distraught lady in apparent shock carrying a youngster who had suffered a similar severely burned body.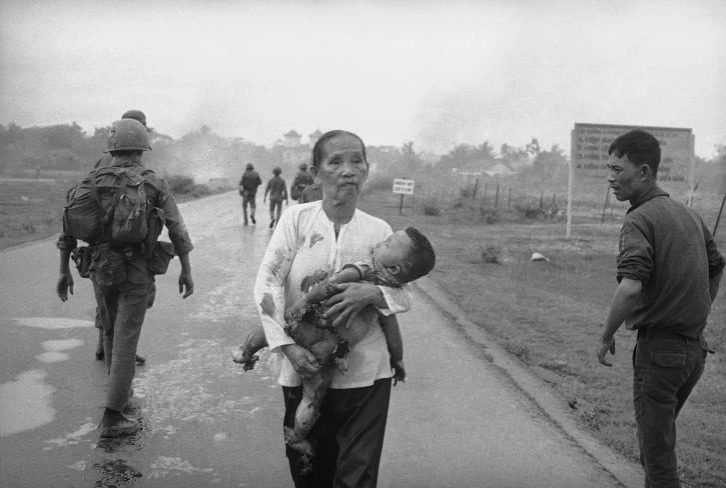 There was inaccurate speculation that the "Napalm Girl" accelerated the end of the Vietnam War which concluded with the fall of Saigon on April 30, 1975. My involvement in Vietnam began in 1972 and, by then, it was apparent that it was all over as U.S. forces were being withdrawn. The next two years were particularly quiet until the northern push ended this foolish encounter. However, the photo became the symbol of anti-war sentiment. The horrors of napalm were so extreme that White House recordings released many years later reflected that Richard Nixon speculated that the picture had been staged. Nixon's revelations made Ut quite upset though it was a harbinger of the denial of certain realities that has continued into current times.