THANKS TO ALLAH THE TALIBAN GOES LEGIT
Recently, I read in my daily edition of the Bangkok Post the front-page news that the Taliban had outlawed the cultivation and harvest of poppy in Afghanistan as opium to ultimately refine into heroin. You might ask why that is a front-page event in Thailand? Without heroin sourced from Afghanistan, Myanmar could conceivably become the number one opium/heroin center in the world. The significance to Thailand is that it has long been a distribution center of opium and heroin to other parts of the world despite efforts on the part of the government to escape that profile.  Beyond the drug business, additional prosperity generated in Myanmar usually is shared with Thai merchants as the growers cross over to Thailand to buy food and supplies.
Poppy growers and opium gatherers are shown below in Afghanistan beginning their harvest by slicing the poppy seed pods to enable the milky fluid to bleed out on the skin of the pod. These poppy farmers are doing their cultivation within a walled compound rather than provide the "field of dreams" image that is prevalent in Myanmar.
The image here reflects the initial cut made into the poppy pod as the resin begins to seep out. Not only does it appear to be innocuous at this stage of the process, but it creates a rather pleasant image that ignores the death and destruction it may create.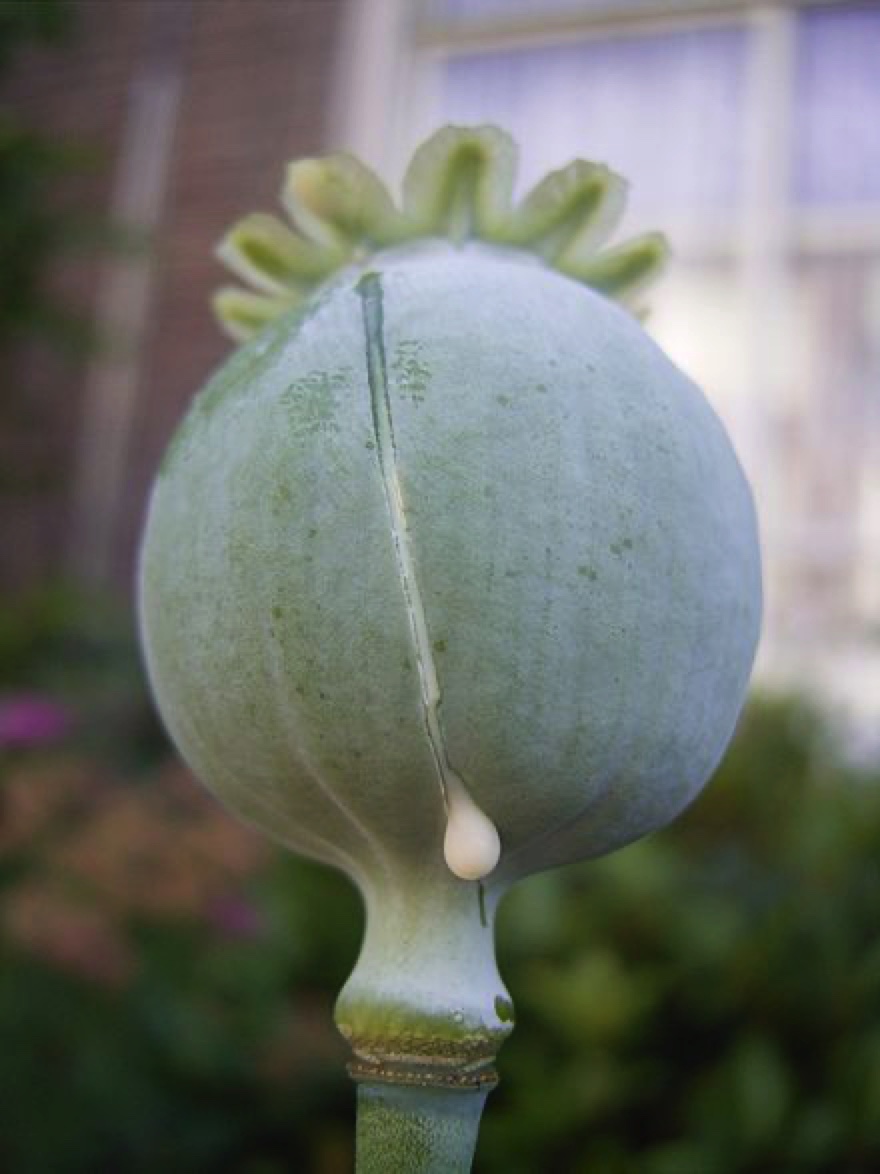 Ultimately, the resin will thicken and turn black which indicates it is time to harvest. At this juncture, a scraping device is used to gather the "black tar" and capture it in a cup to be accumulated and formed into bails to be refined into heroin.  Raw opium has a strong pungent smell that used to permeate the Corsican "commercial" airplanes we rode as passengers and fueled in Laos years ago.  Along with gold, raw opium served as the major currency during the war in Laos.  We wore 24k gold necklaces with Buddha images to buy our way out of a mishap which was stupid as the "bad guys" would have just shot us and taken the gold rather than a few links of a gold chain. Nonetheless, it added to the image of those of us who were sufficiently crazy to do what we did.
During that era, I had a serious opium smuggler engagement on the Thai side of the Burma border when a Thai guy and two Karen Hill Tribe ladies walked into our camp in the jungle with the ladies carrying massive bales of opium on their heads. The drug lord was surprised by my presence, flashed an M-16 and then evaluated his options as who would die – my Thai friend and son of a Thai Minister with the "Dirty Harry" Smith & Wesson .45 caliber magnum on his hip, me with a double barrel shotgun in reach, or him.  We all had guns that were clearly visible, so the issues were timing and necessity to do anything. In the final analysis, he made a wise decision and disappeared back into the foliage with his ladies and the "black tar."
The symbiotic opium relationship between Myanmar and Thailand continues to this time.  The Shan State of Myanmar is a great place to grow opium but access to the remainder of the world is a major logistical issue and Thailand can provide a perfect solution to that problem.  In fact, another heroin article followed on the front page of the Bangkok Post a few days later that highlighted a Thai drug smuggler who had been freed from prison in Myanmar to be transferred to Thai custody.  Khun Bang Lai was released to Thai authorities by the Burmese officials in Myanmar two years ago, was jailed in Thailand for 14 days before he escaped and fled back to Myanmar. Once again, he was recently captured by Burmese authorities and transferred back to Thailand for trial.  He is shown here with his mask down being questioned by Thai police.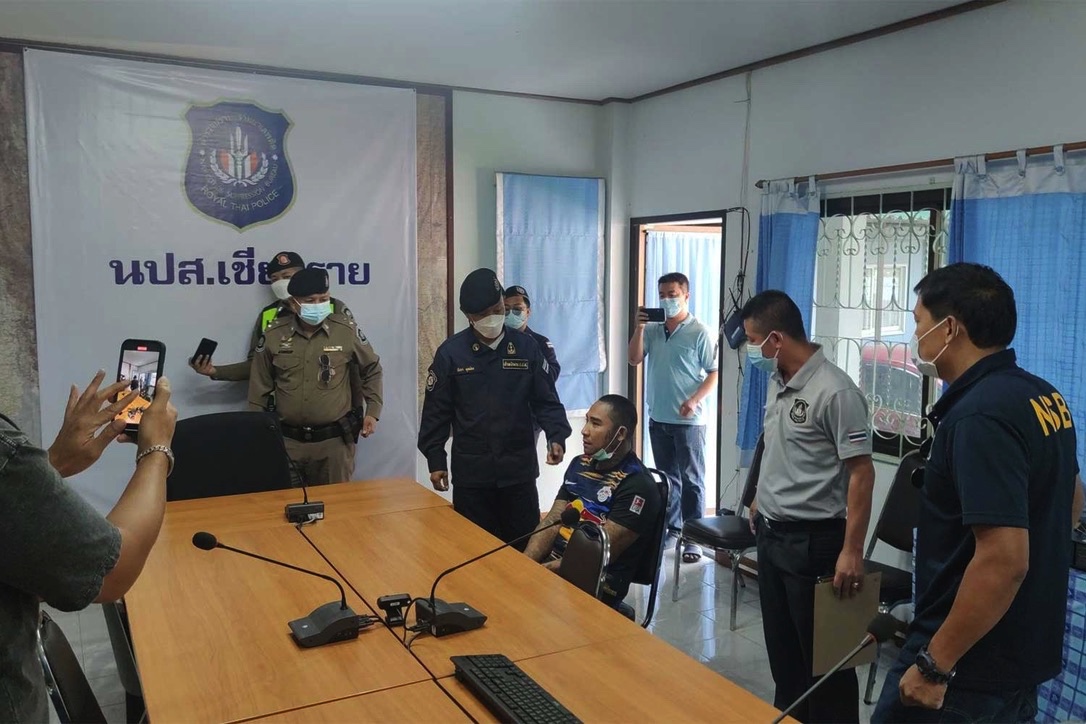 It is a lucrative business to the authorities on both sides of the border. A Thai smuggler is captured in Myanmar where he bribes his Burmese hosts to be transferred to the authorities back in his home country of Thailand.  After some period, he bribes his way out of a Thai jail to find his way back to the source of the drugs where he knows he can repeat the cycle as needed. In fact, he appears to me to be a Shan State person by birth who has become a frequent traveler between the two countries. Take comfort as some things never change. Moreover, eighty percent of the prisoners in Thailand are drug offenders so how can the Thai authorities be expected to keep a watchful eye on all of them?