A ROYAL ERA AND FRIENDSHIP COMES TO AN END
For the past twenty-five years or so, we have spent approximately half of our time in the United Kingdom and Thailand.  The time in Thailand may have been influenced by a longer passionate history there but both places became an integral part of making a living and enjoying life. The world is still in a mourning period for the loss of Queen Elizabeth II at the age of 96 following her reign of over seventy-years. In October 2016, another well-known and revered monarch, King Bhumibol Adulyadej, died at the age of 88 after a seventy-year reign as well.  For those of you who appreciate trivia, Queen Elizabeth II is number two on the leaderboard of longest-reigning monarchs with her reign of 70 years, 214 days while King Bhumibol is number three with 70 years, 126 days. The longevity award goes to Louis XIV of France with 72 years, 110 days from 1643 to 1715.  Forget tenure in office and focus on the close relationship between Queen Elizabeth and King Bhumibol as evidenced by each having visited the other on four state visits to the other side of each of their worlds.
THE NATION THAILAND published an article entitled Queen Elizabeth II Shared Tight Royal Bond with King Bhumibol which outlined their long history as highlighted below in a 1996 visit of the Queen to Thailand.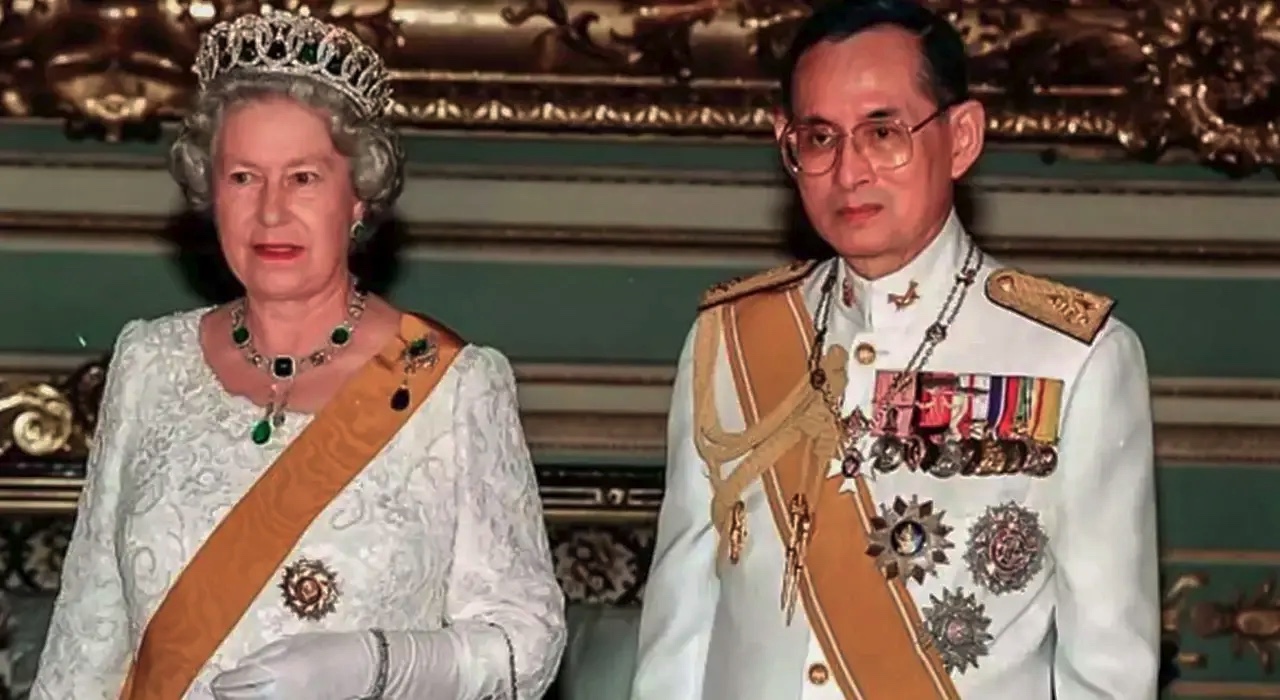 The close relationship between the two monarchies dated back four centuries with the arrival of English traders.  The English East India Company established trading posts in the Ayutthaya Kingdom in the 17th century. Ayutthaya was subsequently invaded by the Burmese and the capital of Siam moved south to what is now Bangkok. The United Kingdom had a strong influence on Siam's modernization in the late 19th and early 20th centuries which created a bond between the two countries. King Bhumibol is shown below in a clip from a 1960 video following his arrival and that of Queen Sirikit, to his right, at Victoria Station in London. He is saluting the playing of the Thai national anthem as Prince Phillip looks on from behind with Queen Elizabeth to his left. In the original video, which can be accessed below the image, you can hear some of Queen Elizabeth attendants commenting that Victoria Station was not a proper setting to greet a foreign monarch. However, it worked as the two monarchs connected for the remainder of their long reigns.
King Bhumibol and Queen Sirikit are shown here as they returned to London again in 1966 travelling by Scandinavian Airline Systems which was the founder and an equity owner of Thai Airways.
The Royal Watcher published an image shown here of The Queen, Duke of Edinburgh and Princess Anne hosting a banquet for the Thai Royal family on board the Royal Yacht Britannia in 1972 during their first visit to Thailand. If there was a concern of acceptable accommodations and dining establishments, I could have given them comfort that Bangkok was quite civilized as I made my residence there four years prior to that time. Nonetheless, the Royal Yacht was a nice touch.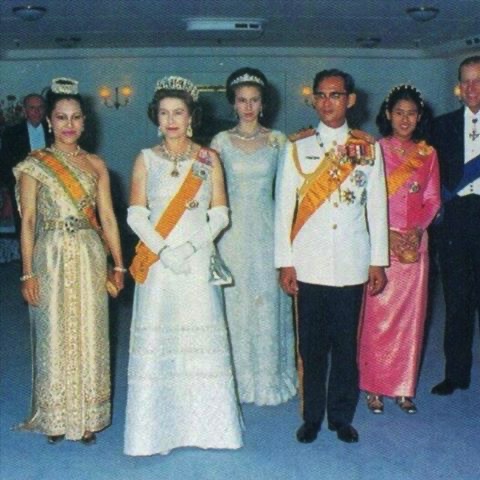 Queen Elizabeth's second visit to the Thai kingdom was in 1996 which was the year of King Bhumibol's Golden Jubilee. We happened to be there then but somehow did not receive an invitation to the festivities.  On the other hand, we had just discovered oil in the Gulf of Thailand, so we had our own reason to celebrate. At a banquet reception, Queen Elizabeth noted Queen Victoria, her great-great grandmother, had been a pen pal with Thailand's King Rama IV, Mongkut, and that bond "has been carried forward to our generation." Queen Elizabeth went on to say, "Over the last quarter of a century your country has become a sophisticated modern state with an increasingly confident democracy."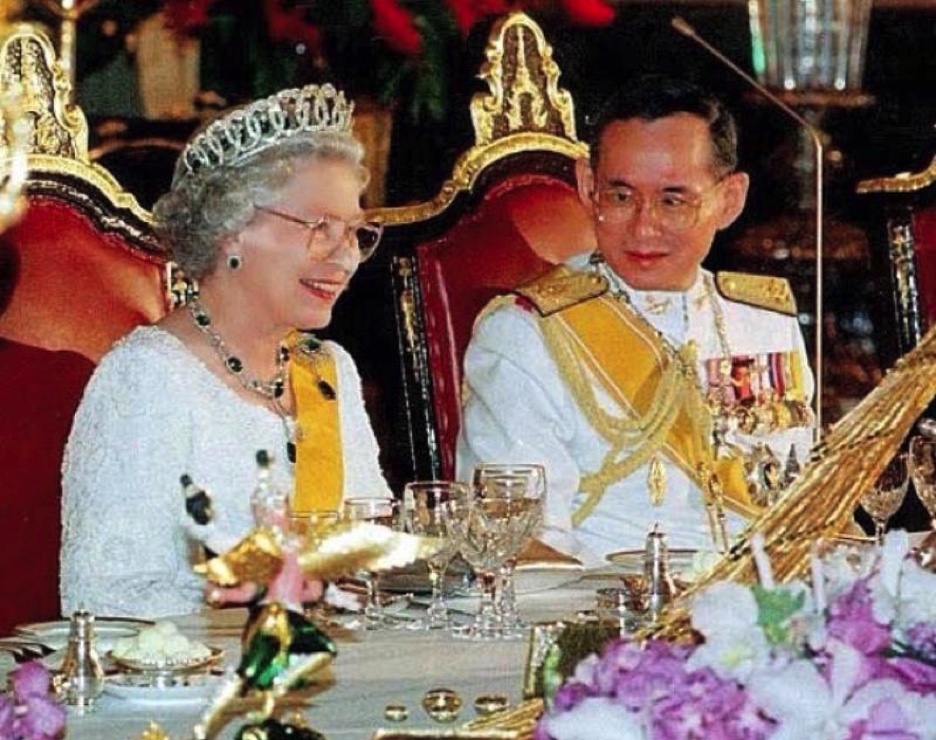 The world will be a different and emptier place without these two compassionate leaders. They both made great contributions to their own countries and mankind in general. Sadly, it may well represent the end of an era which is tragic as we seem to be returning to troubled times of distrust and potential conflict. When will we ever learn?