THANKS TO OUR TEACHERS IN BAN TA KLANG, THAILAND
Some years back, The Elephant Story began funding a program to support the Golden Triangle Asian Elephant Foundation to teach English in the small village of Ban Ta Klang in Surin Province, Thailand located near the Thai border with Cambodia.  We had been visiting the village and engaging with the three hundred elephants that resided there.  The involvement of the villagers with elephants goes back thousands of years representing a separate ethnic group called Kuy with their own language and customs.  Accordingly, the language complexities of Thai, much less English, represent a difficult hurdle for many of the children to achieve entrance into a Thai university where English proficiency is a difficult hurdle for them to overcome.  Therefore, we concluded that English instruction provided a path for the students to broaden their futures and provide better economic potential for them, their families and their elephants.
Khun Patcharee Jaengvong of Bangkok, a well-known Thai educator, participated in the structure and oversight of our educational efforts in Ban Ta Klang.  Not only does she love children, but she is also quite fond of elephants. You should know that the Thai honorific for a revered teacher is Kru when combined with their Thai nickname. The proper names in Thailand are so lengthy that everyone has a nickname. Therefore, meet Kru Oh standing next to me in the school yard as we attended an honors program for the students.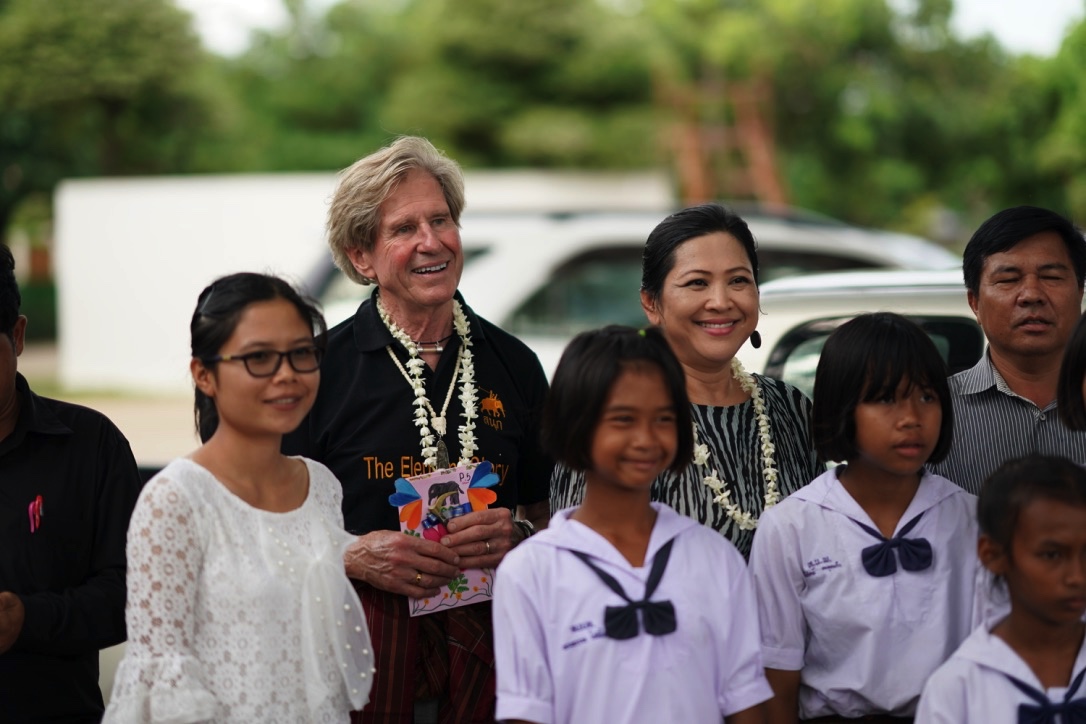 Kru Sue, who is the headmistress, recently had a birthday which the students and faculty honored with a cake and a lot of Thai smiles. I have known Kru Sue for many years and regret that Joey and I missed the celebration.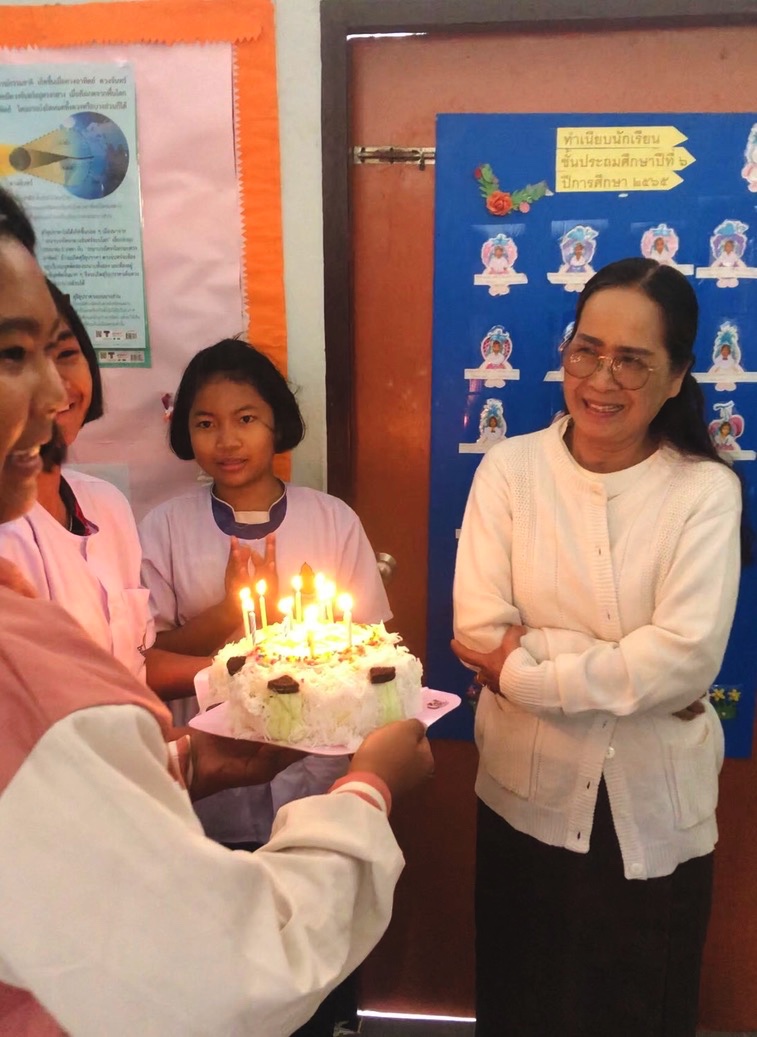 Rachele Mae Alberca is shown below in her classroom at Changboon High School. Chang is the Thai word for elephants and boon is for merit which is a most appropriate name for the high school. There are 106 male students and 86 female students in the high school. You will note in both schools there are dress codes for each day ranging from scout uniforms to native dress Kuy dress. You will also note that the diet for these students has improved from the past and they are taller. A significant part of that is due to the attention given to the food program in the schools.
Time is also devoted to traditional Thai ceremonial crafts such as making Krathongs to celebrate Loy Krathong. When I landed in Bangkok in November 1968 to begin a seven-year pilgrimage in that part of Thailand, the Loy Krathong celebration was in full speed. The festival normally occurs in November depending on the Thai Lunar calendar as part of a Buddhist related ceremony to thank the Goddess of Water. In the old days, Krathongs were made from Styrofoam which created a mess in the rivers in which they were floated. However, you would notice below the high school students are making them from bio-degradable material such as bamboo stalks, leaves and flowers.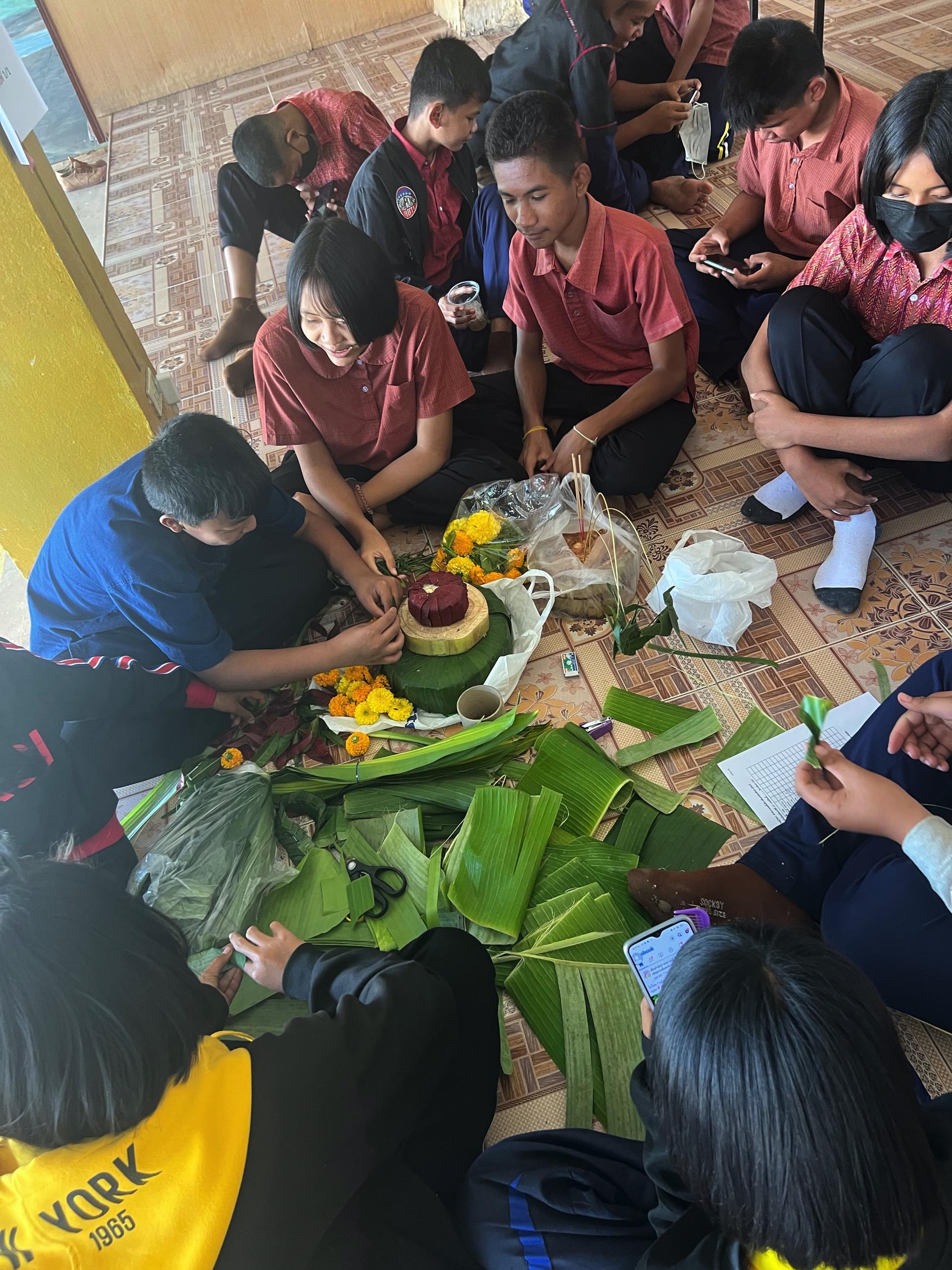 Maricel Ballon is shown below with one of her English classes at Baan Taklang Primary School. There are 123 students in the primary school that are almost equally divided between boys and girls. They are wearing traditional Kuy dress that was most likely made by family members. They grow silkworms and weave silk sarongs like the girls are modeling.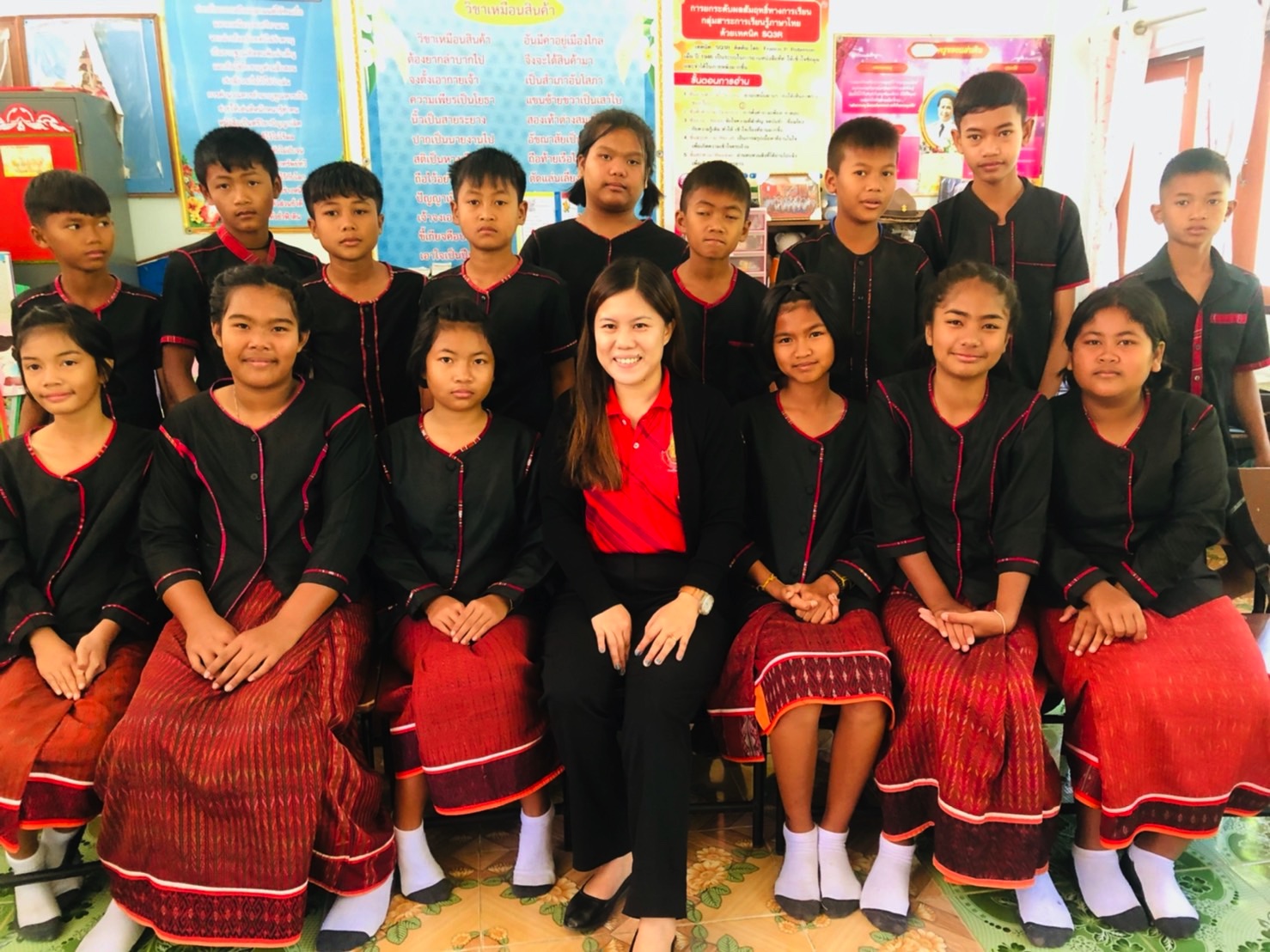 John Roberts, who heads the Golden Triangle Asian Elephant Foundation, is shown below enjoying a cup of Black Ivory Coffee. The coffee beans are processed by Ban Ta Klang elephants with roasting and sorting by Ban Ta Klang students. The most unusual and tasty coffee is prized by many connoisseurs and supports the spiritual cause of elephant conservation and education of the village students.  This image was taken over ten years ago which gives you an idea of how long ago we have drunk the elephant kool-aid, so to speak, and cemented our relationship with the people of Ban Ta Klang. Educating some three hundred children may not sound that significant but it represents a high percentage of the population as well as the future of the village.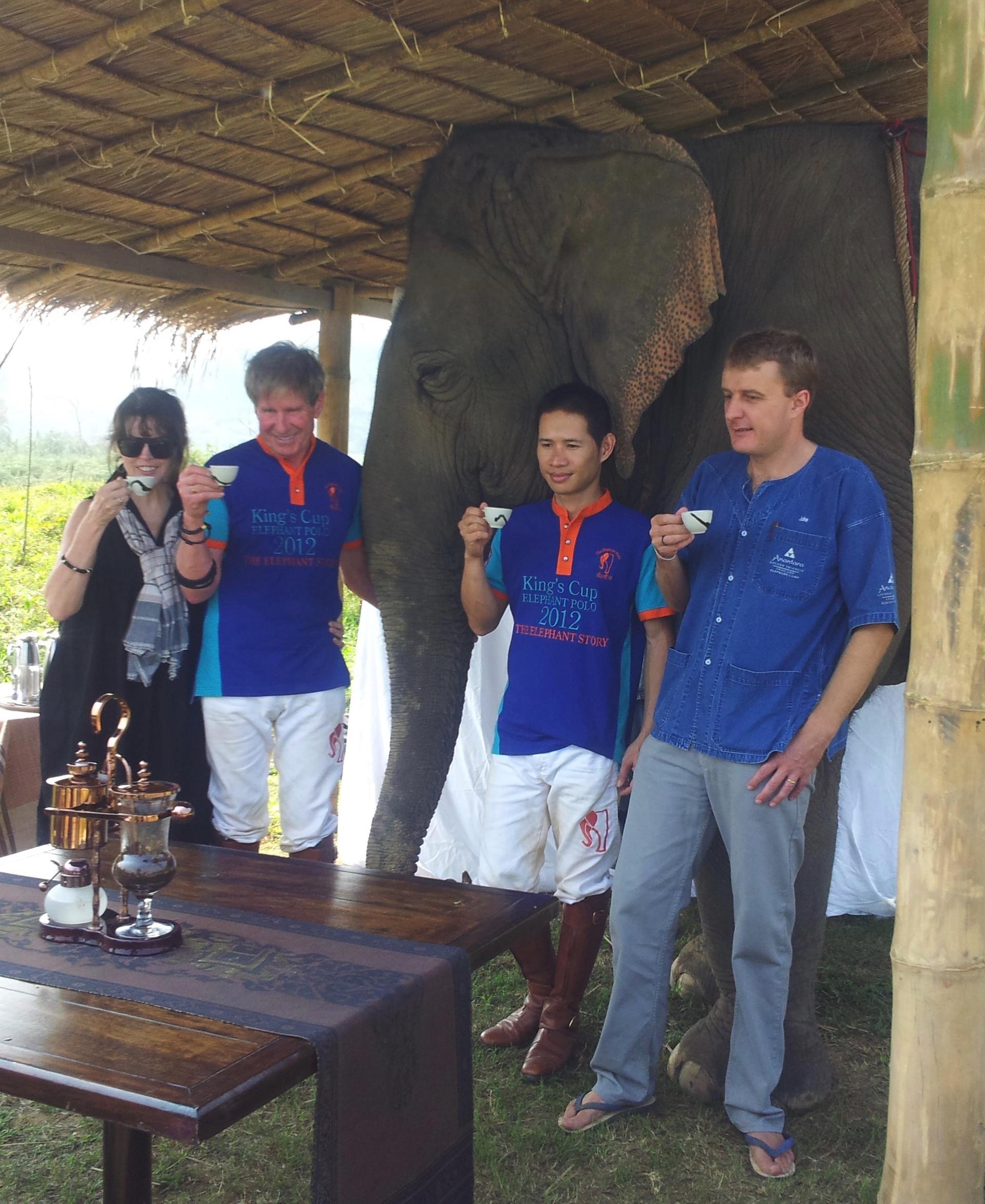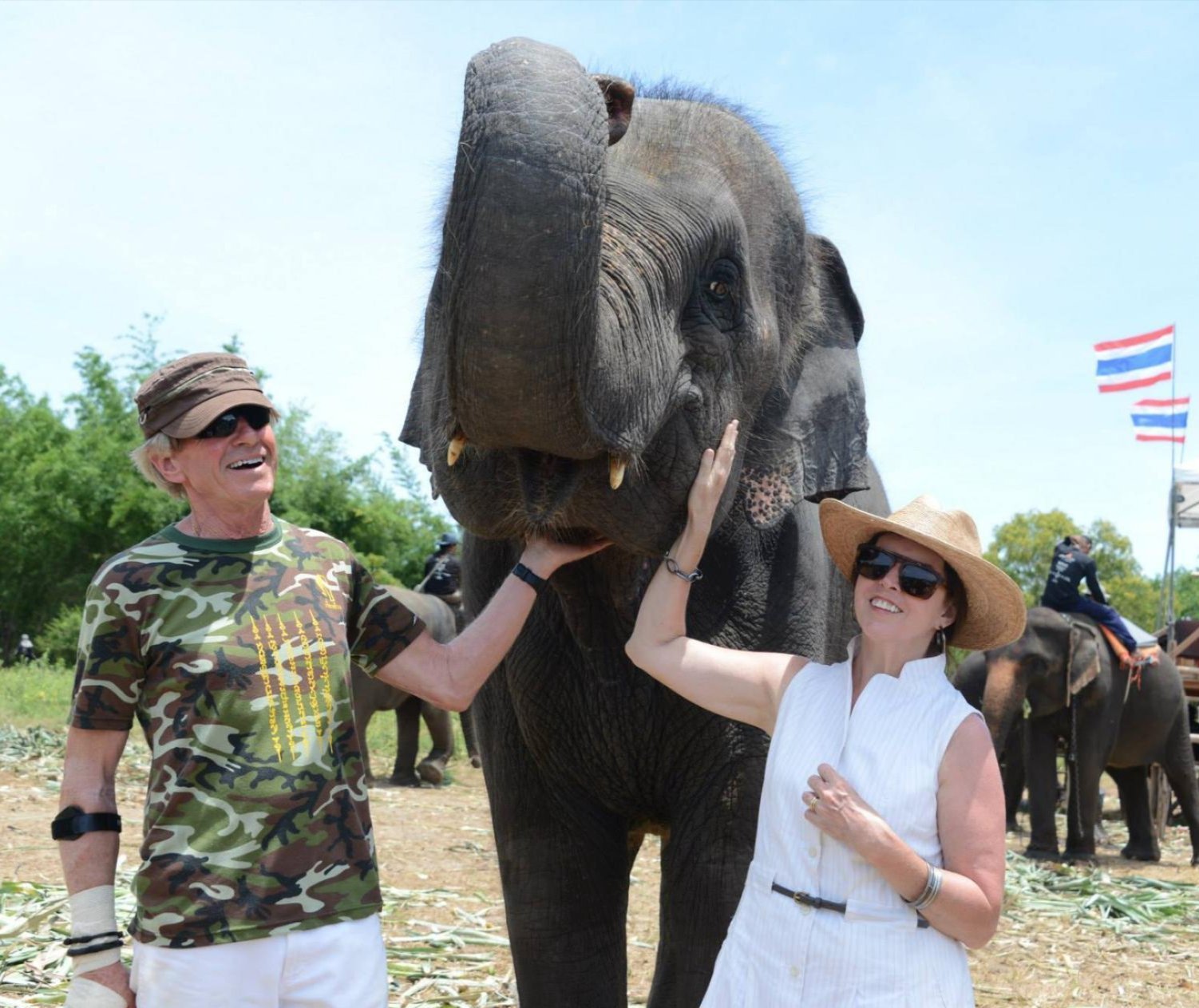 A Purchase That Means More.
Our products are from Asian elephant countries offered to fund programs for the families and their 300 elephants in Baan Ta Klang, northeast Thailand. Your support enables us to provide two native English-speaking teachers in the village as well as underwrite a portion of the veterinary services for the elephants.