FROM SOAPY MASSAGE PARLORS TO SLIPPERY CHINESE INVESTORS
The Bangkok Post has been a treasure trove of material regarding the underbelly of life in free and easy Thailand. You should recognize that Thailand has been a significant part of most of my life ranging from making a living to playing with the elephants. I have many close Thai friends and am about as near to being a Thai in terms of culture, language and thought process as possible. Therefore, I have looked forward to the daily press releases that define the place and the behavior of a famous Thai entrepreneur who has become a "white knight" against corruption.
The image below was initially published in 2003 by Adrees Latif and again by Patrick Winn in the Global Post and The World. The gentleman with the smile on his face is Chuvit Kamolvisit, Thailand's massage parlor tycoon shown with his attendants in the Copa Cabana, one of the six upscale entertainment clubs he owned in Bangkok. His business flourished but he began publicly accusing police officers of milking him for bribes of some $350,000 per month. Most anywhere else such disclosures would have been hazardous to one's health. However, Chuvit kept going and remained alive enjoying a brief period as a member of Parliament. The Thai people can be very forgiving about morality issues, but corruption can be an unacceptable irritant though it seldom goes away.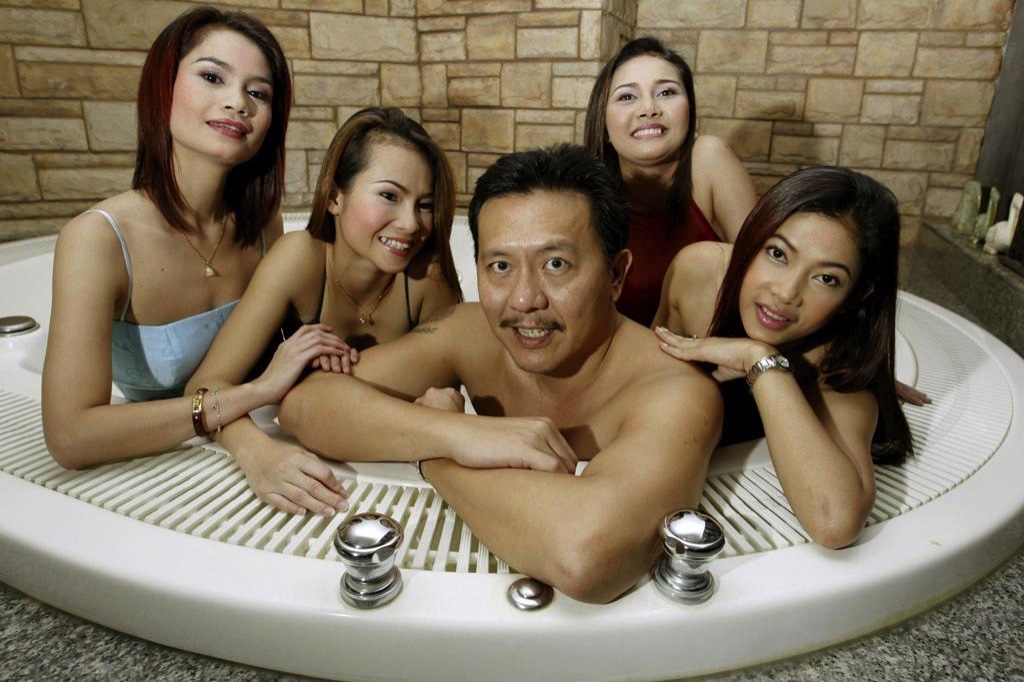 The Bangkok Post brought Chuvit back into the public limelight with an article entitled Immigration Officers Linked to Triad Visa Racket. Investigation finds some officials as 'owners' of foundations set up to help Chinese businessmen. By the way, I read The Bangkok Post every day. An investigation into corruption by senior Immigration Bureau officers discovered evidence that some officers were helping foreign criminals by serving as owners of fictitious foundations that arranged visas for Chinese nationals. Once again, Chuvit was in the limelight, as shown below, where he furnished police with the necessary evidence to outline the connections which led the police to establish an inquiry panel.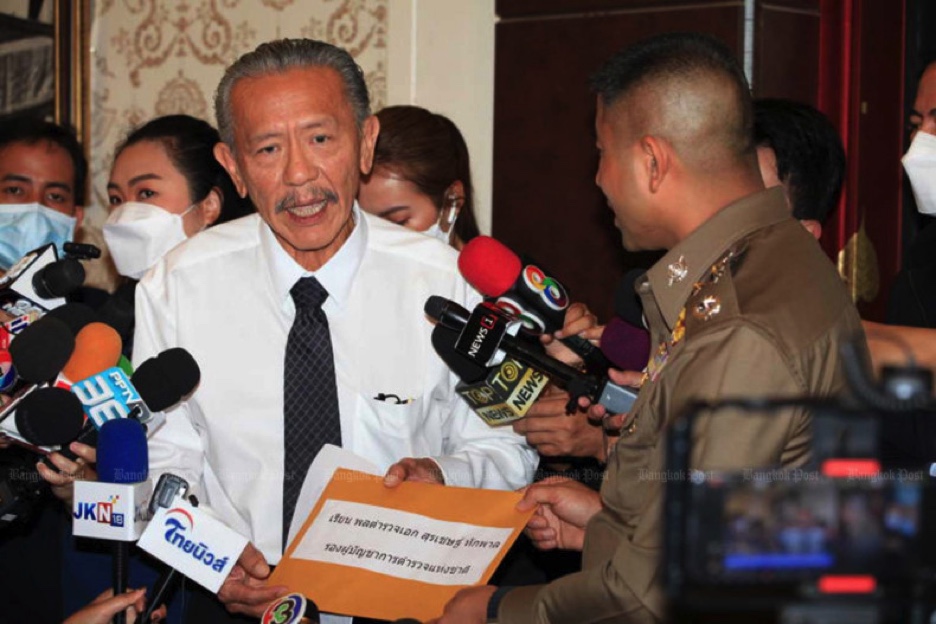 The result was a series of arrests that followed including that of "Tuhao" Kornchanayanant, a Chinese national married to a well-connected Thai police officer.  You can always identify the potential offenders as they wear black masks and have their handcuffs concealed to protect the innocent. The Office of the Narcotics Control Board subsequently seized assets exceeding $4 million from Tuhao.
Chuvit is shown below receiving a certificate of recognition for his "crime stopping" endeavors. He has come a long way from his soapy massage parlor days but his irritation with corruption caused him to become the champion of law and order.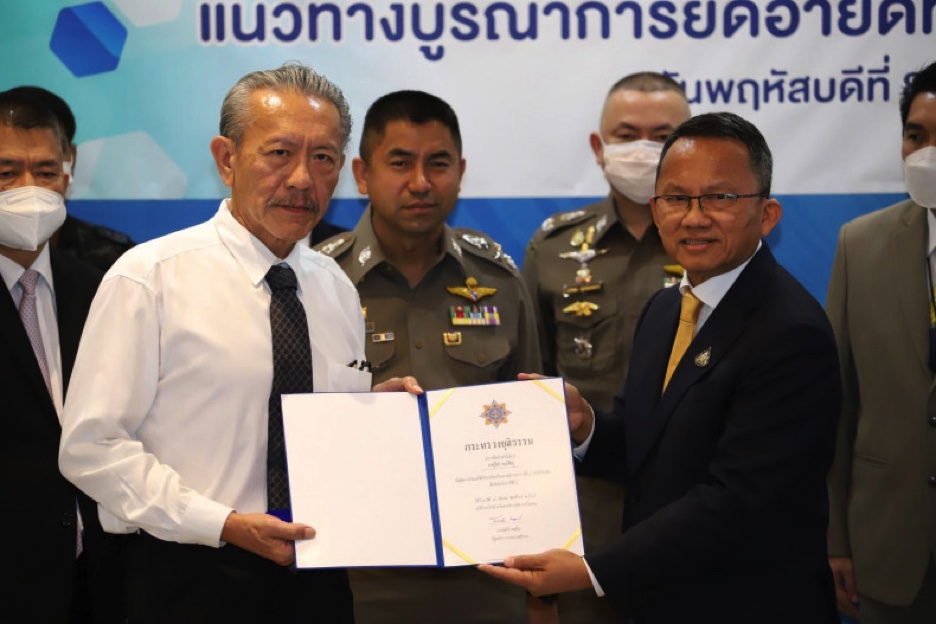 When advised that he would receive 5% of the seized assets, Chuvit held a press conference where he announced that 'All Tuhao' reward money to which he might be entitled would go to hospitals." He acknowledged his murky past, remarking that he was "reformed" and wished to "work for society without expectation of reward."
The most recent Bangkok Post headline stated Jail Threatened for Thai Nominees of Foreign-Owned Businesses in Chinatown.  Joey and I were recently in Yaowarat, the Chinatown of Bangkok, doing some Christmas shopping. Apart from the great Chinese food, almost 100% of the products were from China and it was a strange mixture of Chinese and Thai being spoken. The investigations into who owns the establishments is the new crime-stopper threat that Thai people are being used to act as co-investors without any actual investment.  As seen below, Yaowarat is a massive market by day and dining location by night.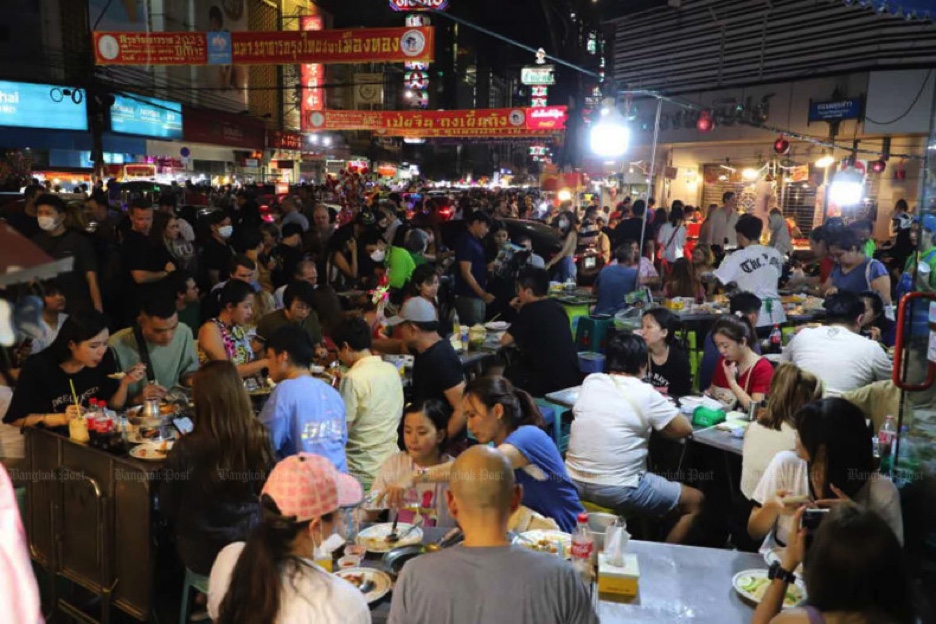 Over the years, Chuvit has parked his "Soapy Massage Parlor" title in favor of being "The Corruption Crusader." Who says people cannot see the light and find the right path to nirvana?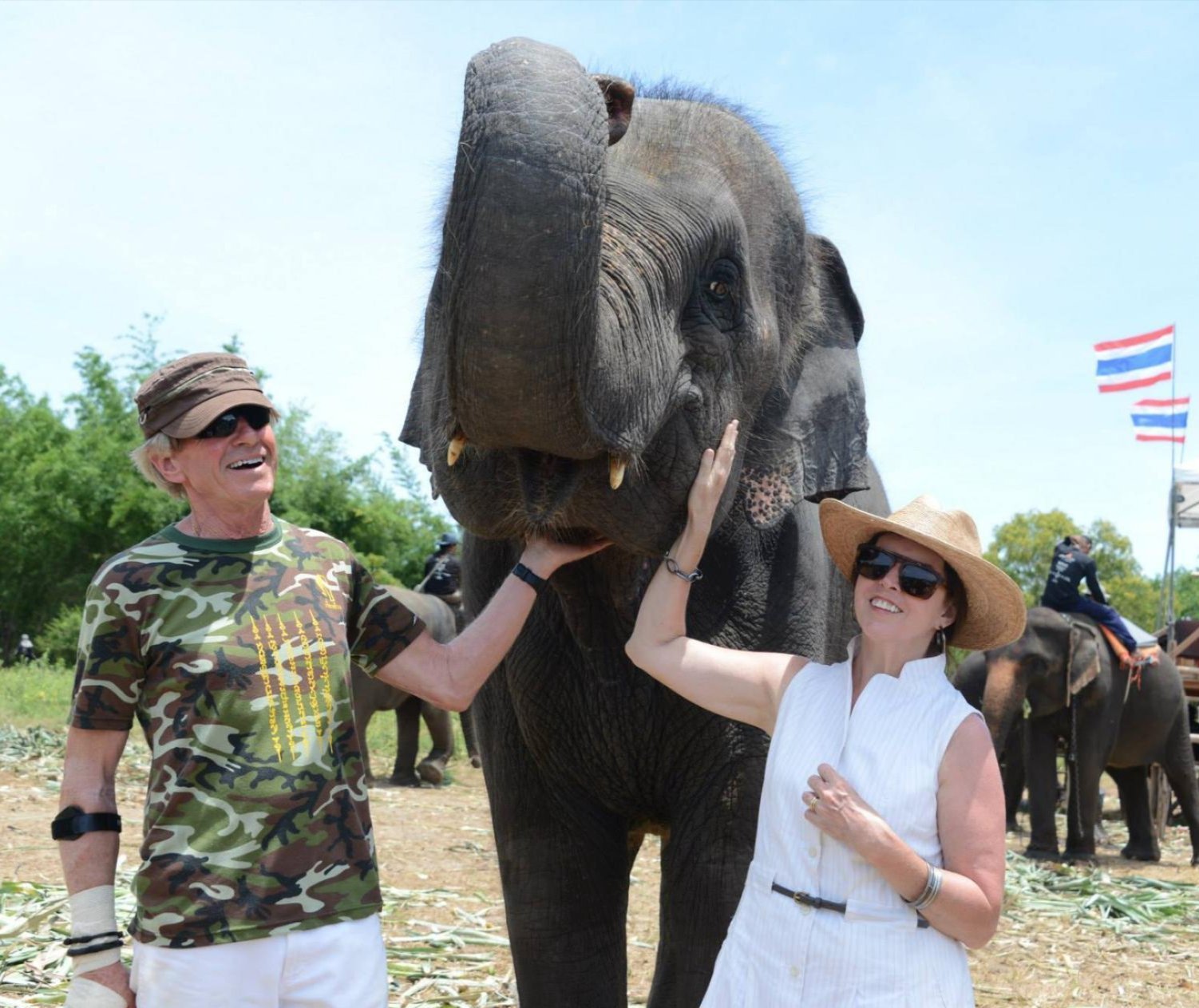 A Purchase That Means More.
Our products are from Asian elephant countries offered to fund programs for the families and their 300 elephants in Baan Ta Klang, northeast Thailand. Your support enables us to provide two native English-speaking teachers in the village as well as underwrite a portion of the veterinary services for the elephants.