LOST IN THE CAMBODIAN JUNGLE IS SAFER TODAY THAN 50 YEARS AGO
Ironically on April Fool's Day in 1973, I found myself in a misadventure on the Thai/Cambodian border.  We were visiting a primitive teak-smuggling/logging camp and decided to have a walk-about in the jungle which was stupid.  Shown below is the camp and an old-friend, Khun Toy, who worked for me and whose father was a Minister in the Thai government.  Khun Toy had a new .45 caliber Smith & Wesson "Dirty Harry" special that was the talk of the camp.  Two other gringos, Bob and Tom, joined me, a local villager, and a Thai Border Patrol officer to take a stroll. 
Much of the sun-up to sundown, excruciatingly long day without water was spent on all fours crawling under dense foliage lost in the jungle.  Occasionally, the Border Patrol guy would shoot his M-16 in the air seeking return fire from our camp to capture the direction back home.  Periodically, we would get return fire that was hopeless to follow as we would lose the direction almost immediately.  We were fortunate as the fire was coming from Khmer Rouge folks and not our associates.  We were also blessed as we were crawling around in an area that was not covered in land mines since we had not received that memo.  The Thai government is now addressing the land mine potential hazard to life in the jungle.   Moreover, you would not find a cigarette in my hand these days, but guns remain a common attachment as we live on a ranch.   
The Bangkok Post recently published an article entitled Cambodian War Mines Removed from Thai Border which is a grim reminder of how lucky we were back in the old days in that neighborhood.  As incredible as it may seem, social media is an information tool utilized by the Thailand Mine Action Centre (TMAC) of the Royal Thai Army to locate remaining hazardous armaments.  TMAC was alerted that three land mines had been sighted by local villagers.  Explosive ordinance disposal officers, shown below, were sent to the sites where they safely defused three mines that were as close 300 feet to the roadside. 
The ongoing effort to remove land mines was covered several years ago in another Bangkok Post article, De-mining Push Off with a Bang! The Ministry of Defense destroyed some 3,133 land mines in its initial push to get Thailand off the Ottawa Convention's blacklist which was expected to improve the appeal of jungle treks to the foreign tourist community.  A TMAC officer in the Royal Thai Army presents below examples of the myriad of land mines in existence.
The Thai Army made quite a production when the large cache of land mines was destroyed. The event was chaired by a Thai General with foreign attaches, NGOs and various government representatives attending.  As shown below, it was quite a show.
A friend of mine who was a General in the Vietnam War related a story when he had the pilot of his personal helicopter put him down on a landing site.  He hopped out of the aircraft and realized that he was surrounded by "bouncing betty" land mines.  He radioed his pilot to take off and then hover over him and drop a sling to extract him out with as little disturbance as possible.  He made it but I would guess that he had several extra shots of scotch that evening. 
Another land mine account was from a guide Joey and I hired at Angkor Wat, Cambodia after the Khmer Rouge had fled to their sanctuary near the Thai border.  The guide said one day the Khmer Rouge came into his classroom and asked the boys to stand up and file out the door.  They were being drafted on the spot to walk in front of Khmer Rouge soldiers to see if there were land mines present.  He hopped out the window and successfully escaped to live to adulthood while many of his classmates perished or lost limbs.  The moral of that story is the Khmer Rouge were worse that anyone can comprehend. 
There is one famous "lost in the jungle story" that concerns the disappearance of Jim Thompson in the Cameron Highlands of Malaysia in March 1967, a year before I made my way to that part of the world.  For those of you who do not know his background, he is a legend in Thailand, worked for the OSS (predecessor to the CIA) in WWII, was a part owner of the iconic Oriental Hotel and basically put Thai silk on the world's screen.  One day Jim Thompson, shown below, went for a walk in a Malaysian jungle setting and never returned to his bungalow.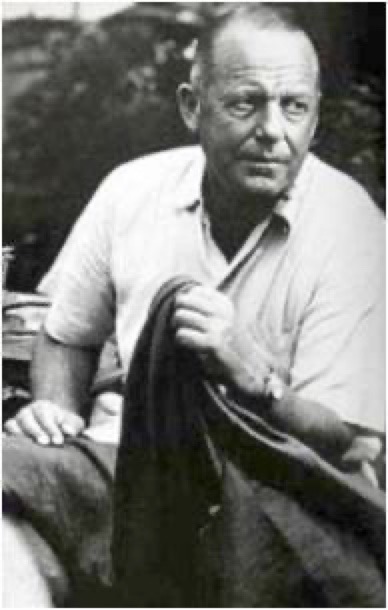 There have been endless conspiracy theories surrounding his disappearance.  My theory has been consistent since my time lost in the jungle—he was not scooped up and spirited off to China nor killed by bandidos or communists.  He simply made a wrong turn in the rain forest/jungle, lost his way, and likely died of dehydration.  If one knows what plants represent safe sources of water, you can live a long time there.  Simply stated, the jungle is neutral. I once spent a few days in a survival training course at Pensacola Naval Air Station which was a piece of cake for an Eagle Scout.  However, in a dense jungle setting with Khmer Rouge killers all around it is an entirely different challenge. 
We Make Every Purchase Count.

Our products are from Asian elephant countries offered to fund programs for the families and their 300 elephants in Baan Ta Klang, northeast Thailand. Your support enables us to provide two native English-speaking teachers in the village as well as underwrite a portion of the veterinary services for the elephants.