The King's Cup Elephant Polo Tournament was recently held in Bangkok, Thailand.  There were some twenty elephants from Moo Baan Chang where The Elephant Story supports the primary and secondary schools.  In total, there are two hundred elephants in this village located northeast of Bangkok. 
Ten teams with representatives from more than twenty countries joined in the competition event.  Over the course of the four-day event and The Elephant Day parade of elephant resin sculptures, some $430,000 was raised for elephant conservation.  Each team was awarded an Elephant Day sculpted trophy.  In fact, The Elephant Story team had its best ever finish as runner-up. The trophy can be seen at 723 High Street, Comfort, Texas.  You know what they say about Texas, particularly when Khun Wee and Khun Seng of Thailand join forces...
So what is the tournament all about?  Apart from the elephants, the team camaraderie, and raising funds for elephant conservation, it is an opportunity for Thai school children to have first-hand contact with these wonderful creatures that are deeply rooted in Thai culture and history.
It also represents an opportunity for young and old to practice their acrobatic skills on top of an elephant.  
Lastly, it gives the various teams a chance to blow off some steam after five hard fought matches over a four-day period.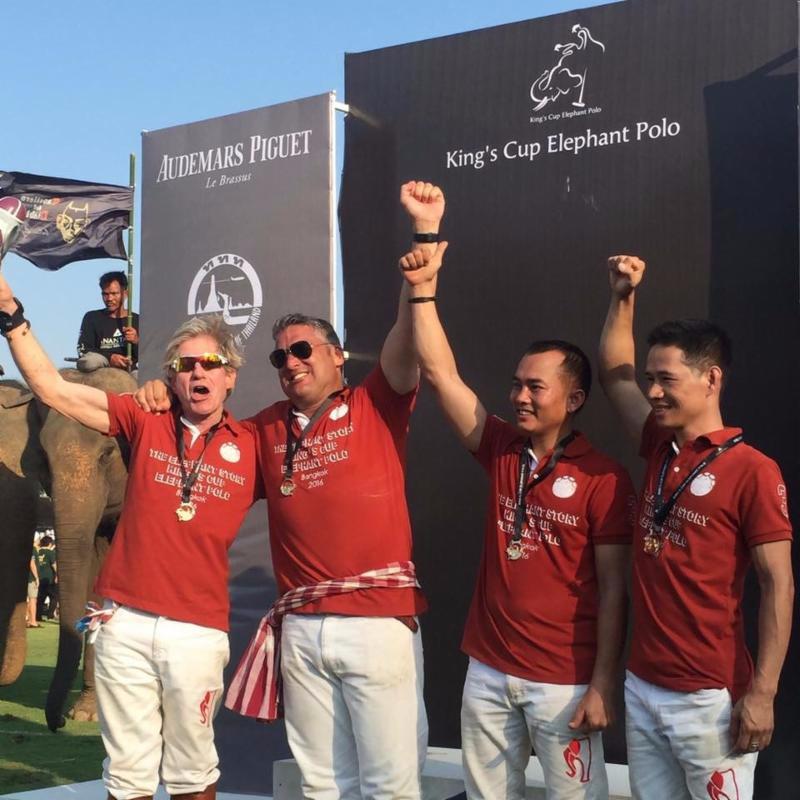 The Rueang Chang Team (The Elephant Story)
(left to right) Ed Story, Jason M. Friedman, Prakorn Saejaw and Taweesak Keereekaew.
Click Here to see Elephant Feast Video
2016 Kings Cup Limited Edition Camo Elephant Polo Jersey
$95.00

2016 Kings Cup Limited Edition Elephant Polo Jersey
$95.00
2016 Kings Cup Limited Edition Camo Yant Tee
$20.00