As the presidential contest in the U.S. is moving into full swing, many politicians seem to believe they can seize upon education to reward their constituents by manipulating class curriculums to conform with whatever suits their purpose which is to win votes. Their self-serving rewards come at a costly price to the educational process and the youth of America. Over the years, we have left those issues behind and focused on the more manageable village of Ban Ta Klang in Surin Province, Thailand near the Thai border with Cambodia. As the isolated village is home to three hundred elephants it was a natural for The Elephant Story to lend a hand to the work of The Golden Triangle Asian Elephant Foundation headed by John Roberts. English is a challenging subject here as the Kui villagers have their own language though they must deal with a surrounding Thai population and government. Our guiding saint in this effort over many years has been a leading Thai educator, Khun Patchaaree Jaengvong, or Kru Oh as she is known to us. Two ladies, Maricel Ballon and Rachel Mae Alberca have personally directed the effort in Ban Ta Klang for the past several years.
Rachel Mae is shown below with several of the older students exchanging the traditional Thai "wai" greeting as a sign of respect. Note the students are wearing scout uniforms which is one of the many dress codes followed during study at Ban Ta Klang. Scouting in Thailand was enacted by King Rama VI in the early 1900's. It was likely done to create an early Thai identity among the varied ethnic groups in the country.
You will note that there are many "dress up" days in Ban Ta Klang illustrating traditional Thai costumes. Moreover, the Royal images of King Rama IX (1946-2016) and King Rama X (2016- present) are on either side of the stage. I knew the United States Information Agency director in Thailand in the late Sixties who oversaw a legion of people paying villagers to put an image of King Rama IX in each of their homes to create a national unity. I found his efforts, driven by a fear of the bogus "Communist Domino" theory during the Vietnam War, a bit strange but he also thought my extended trips to parts unknown in Laos were odd in an "illegal war without a U.S. presence."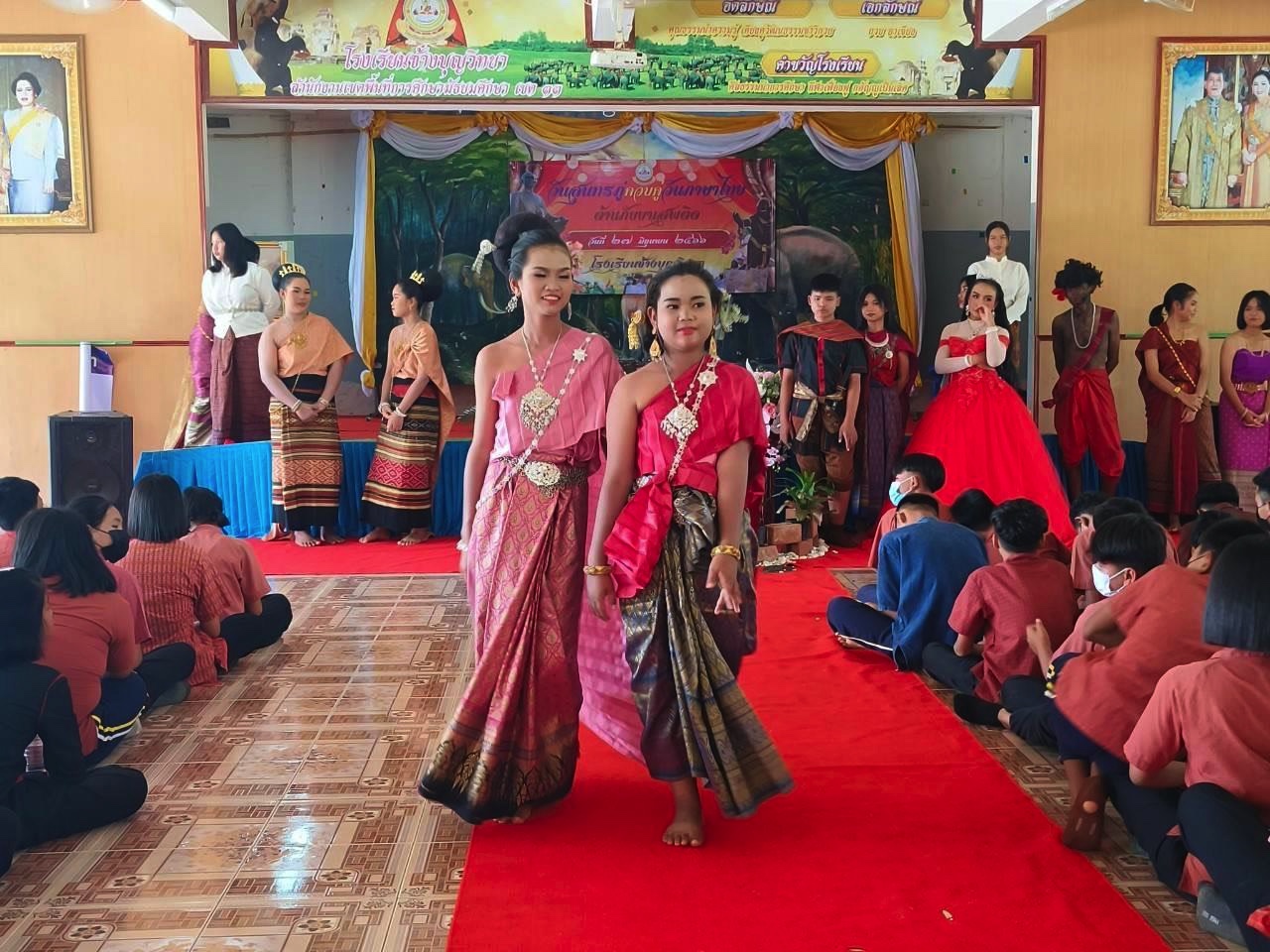 The enthusiasm of the youngsters below is contagious. They are wearing the traditional native dress of the ethnic Kui people representing a contrast of eras as they watch the computer screen.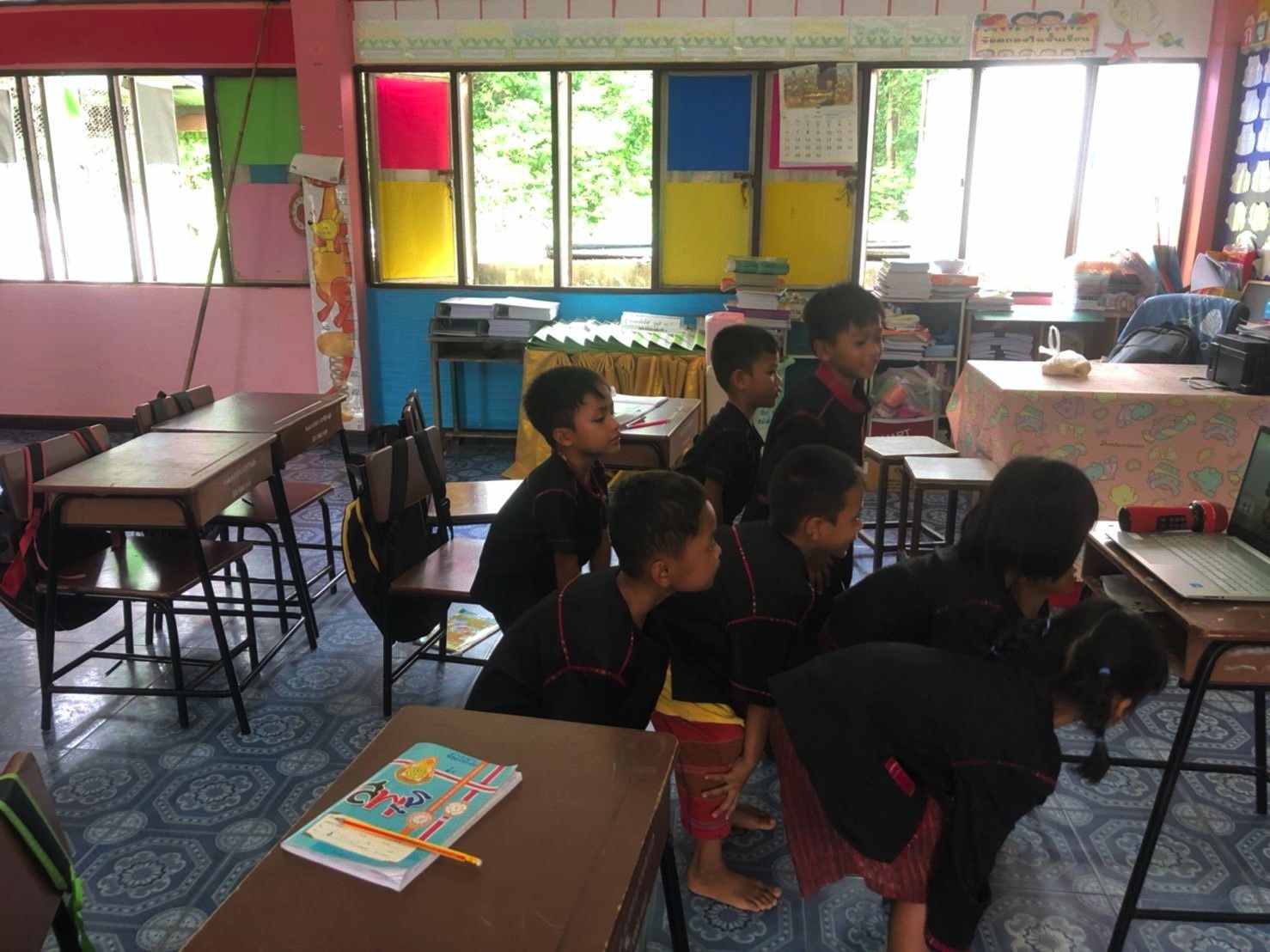 Maricel is shown below with three ladies wearing their Thai uniforms. Flowers, pomp and circumstance, uniforms and smiles are all part of the Thai culture.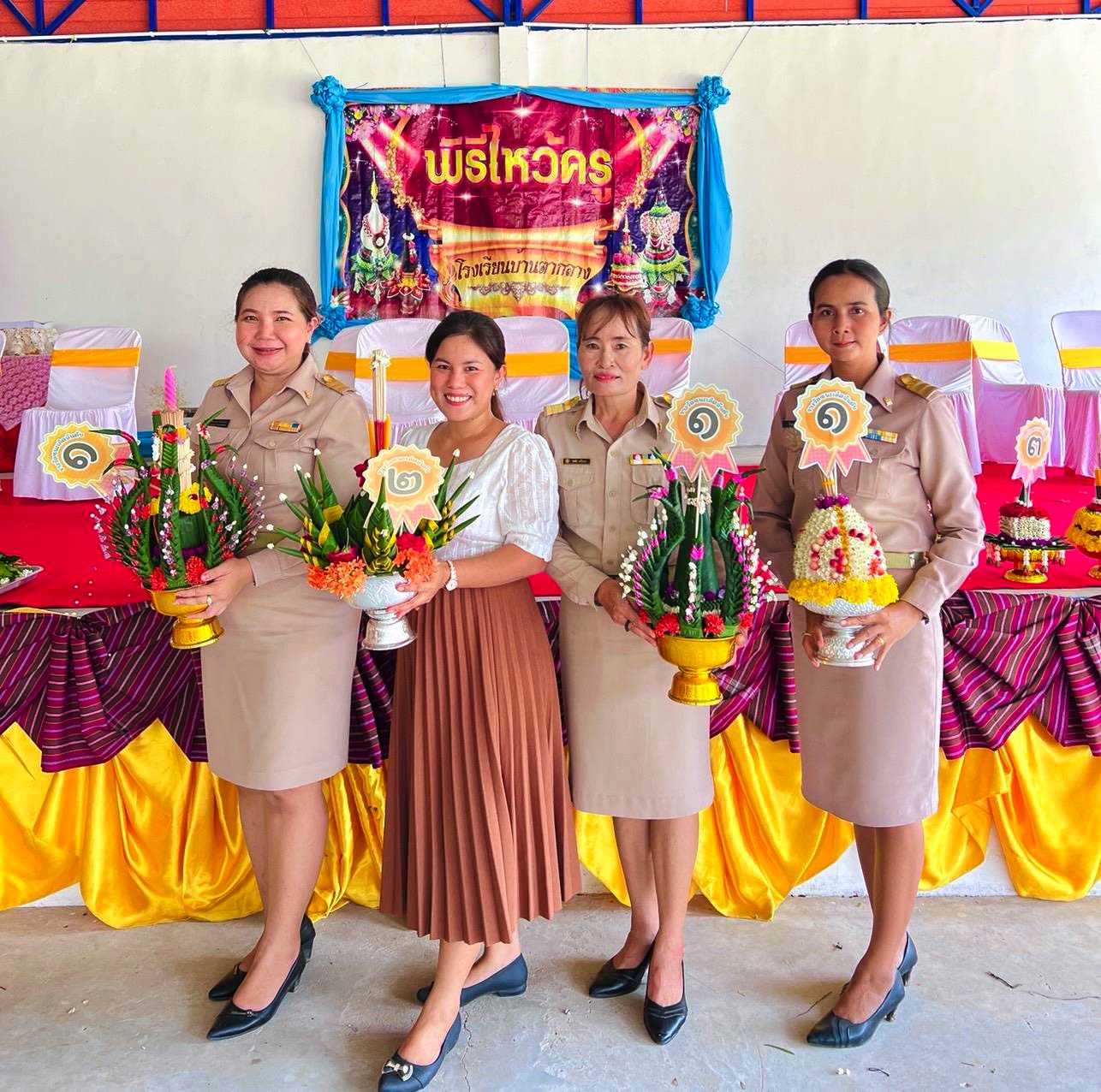 The youngsters in both Maricel's and Rachel Mae's classes are also wearing their scout uniforms on what is obviously uniform day.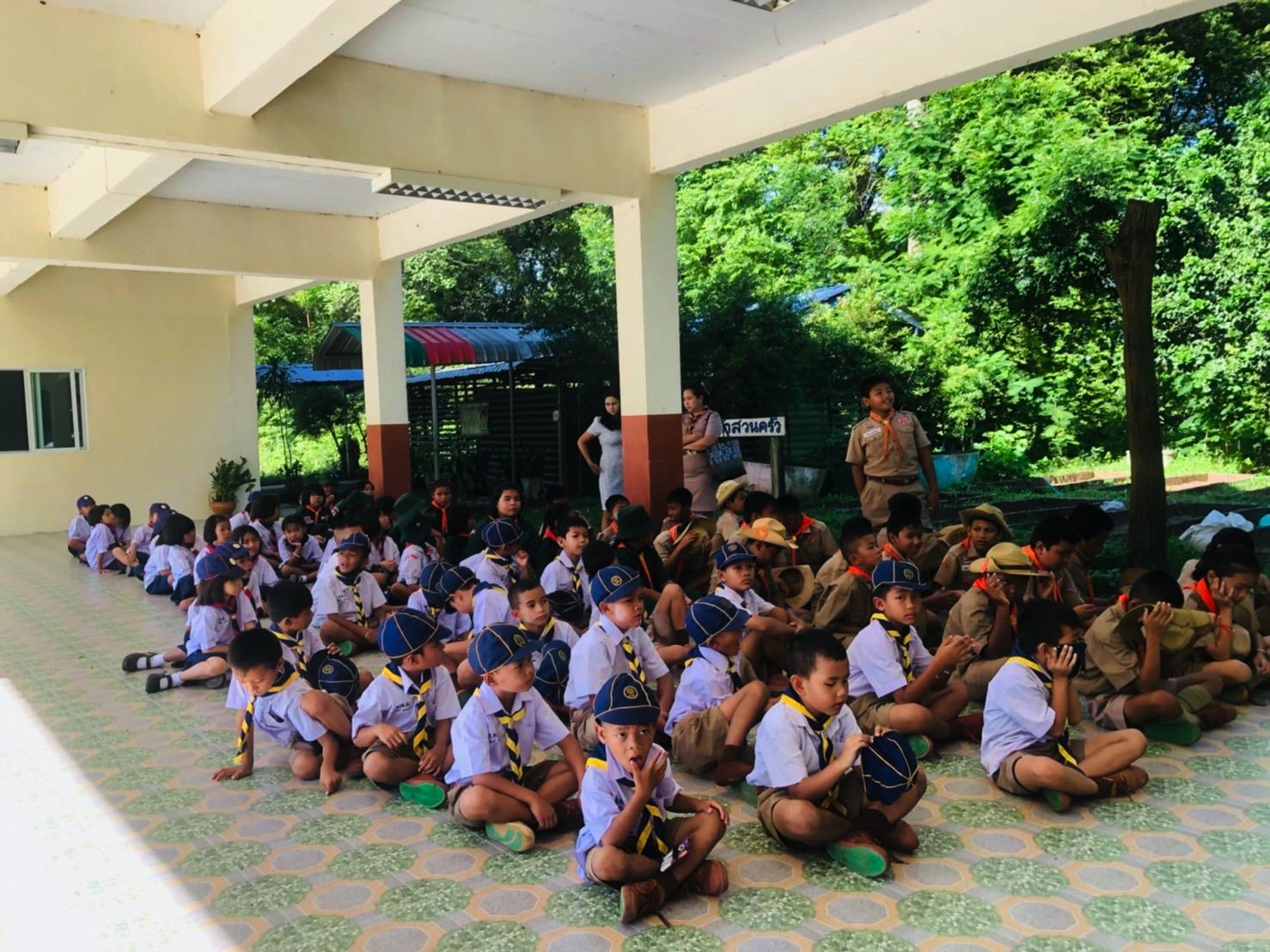 The other obvious impression is the devotion to Buddhist rituals as the older boys follow the monks in their procession. Notice the simplicity of the boys' dress in conformity with Buddhist principles. Clearly, one cannot go to class in Ban Ta Klang without having received the daily instruction on what to wear. The military and Buddhist influence is clearly designed to promote uniformity and compliance with what was once a very different population of varied tribes, customs, and languages. Often, there is something to be said for the diversity of the past but that does not lend to nation building.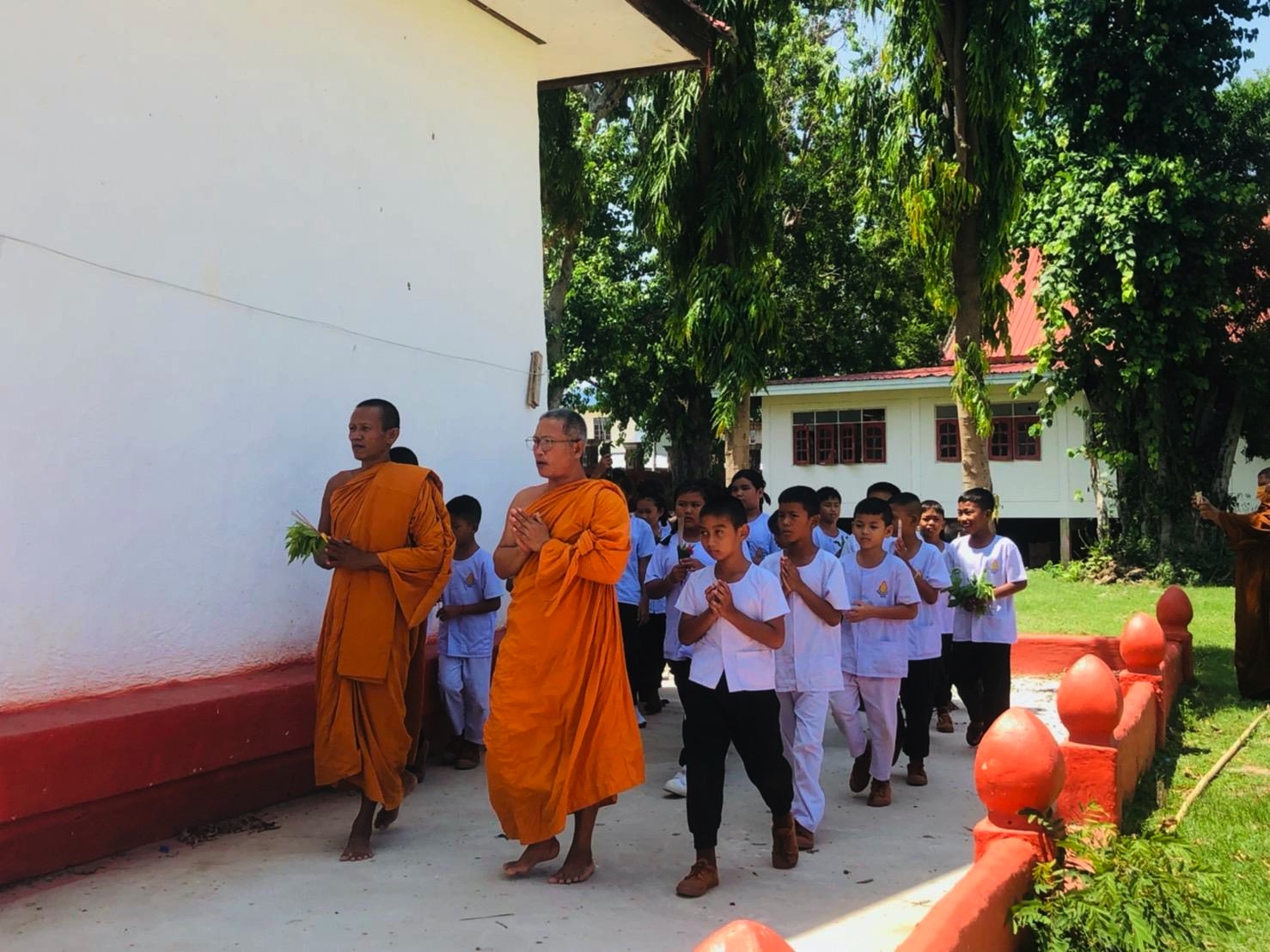 The greatest reward from education just surfaced when John Roberts and I received an email from Khun Netnapha Sukchit, whose nickname is Wali, a graduate of Changboon Wittaya in Ban Ta Klang. Khun Wali just began her second year at Sisaket Rajabhat University where she is studying Business English. Clearly, she will become the bread winner of the family as her father died of cirrhosis ten years ago and their elephant was poisoned in a zoo in southern Thailand. Elephants and alcohol abuse is the identifying description of most men in Ban Ta Klang. Years ago, we believed the women would be the beneficiary of our educational efforts to support their families which seems to be the case. Below is an unedited excerpt from the email Khun Wali sent to John and me:
I would like to thank Chang Boon Wittaya School for giving me the opportunity to learn English and show my skills in English and I am very thankful to k. John and k. Ed for giving me a scholarship. And I'm very glad that I can continue to study what I like the most. I want you to keep doing this project forever so that young people who like languages can get a good opportunity like me. And I promise that I will study hard and graduate. My English will be better in the future.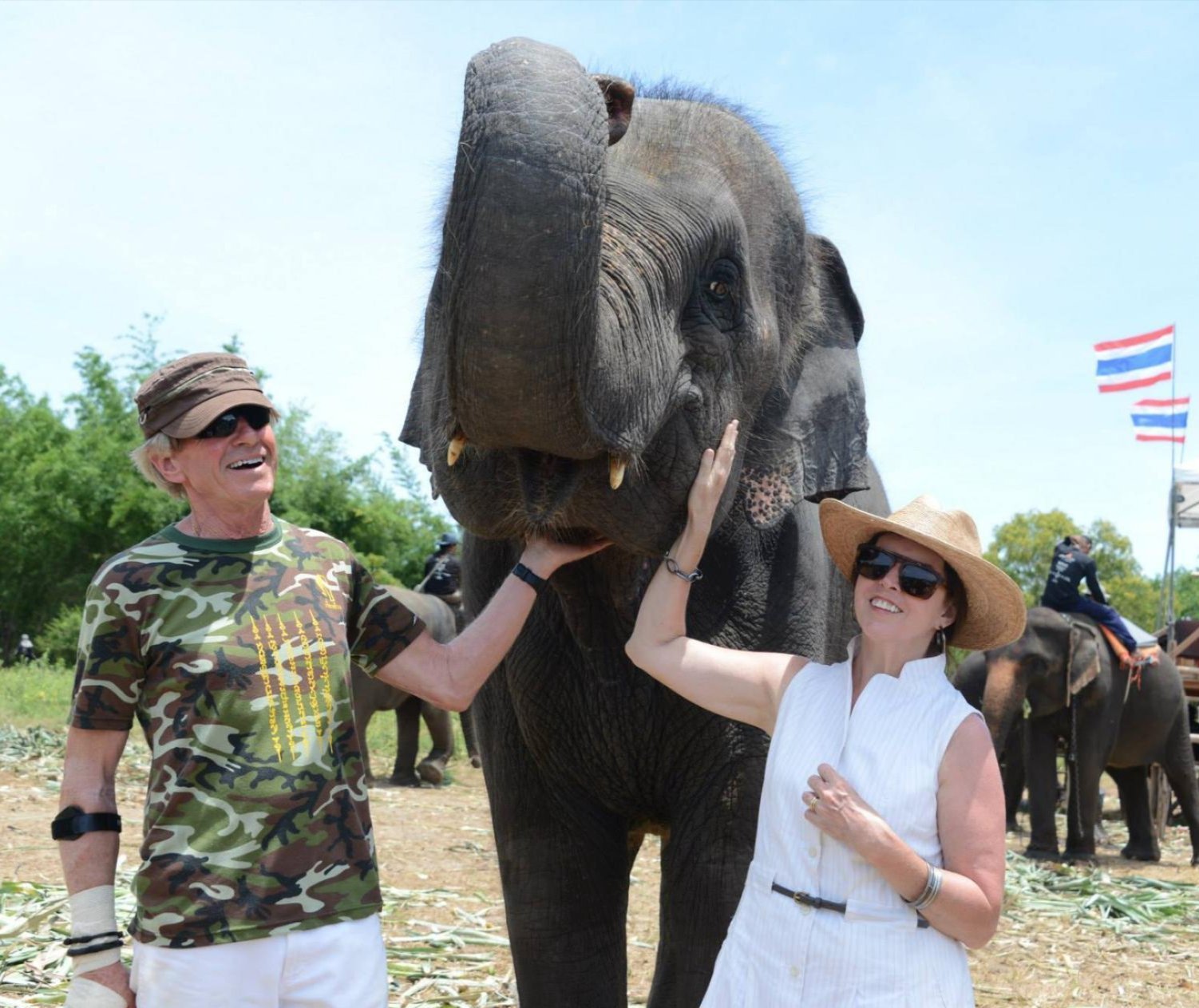 A Purchase That Means More.
Our products are from Asian elephant countries offered to fund programs for the families and their 300 elephants in Baan Ta Klang, northeast Thailand. Your support enables us to provide two native English-speaking teachers in the village as well as underwrite a portion of the veterinary services for the elephants.