JAPAN AIRLINES SEATS THE
SUMO TITANS
CNN Travel recently published an article entitled "The Middle Seat was the Toughest." Japan Airlines (JAL) had to adjust its flight configuration to solve weight limitations when they had a plane load of sumo wrestlers to transport from Tokyo to a competition in southern Japan.  The cumulative weight of the wrestlers exceeded the aircraft limits which then required two planes and careful consideration of the seating arrangements.  The average weight of the sumo wrestlers was 264 pounds each as compared to 154 pounds for the average more svelte JAL passengers.  There were complaints from those sumo wrestlers who had to cram into a middle seat.  Even the normal JAL hospitality could not accommodate a plane load of these giants.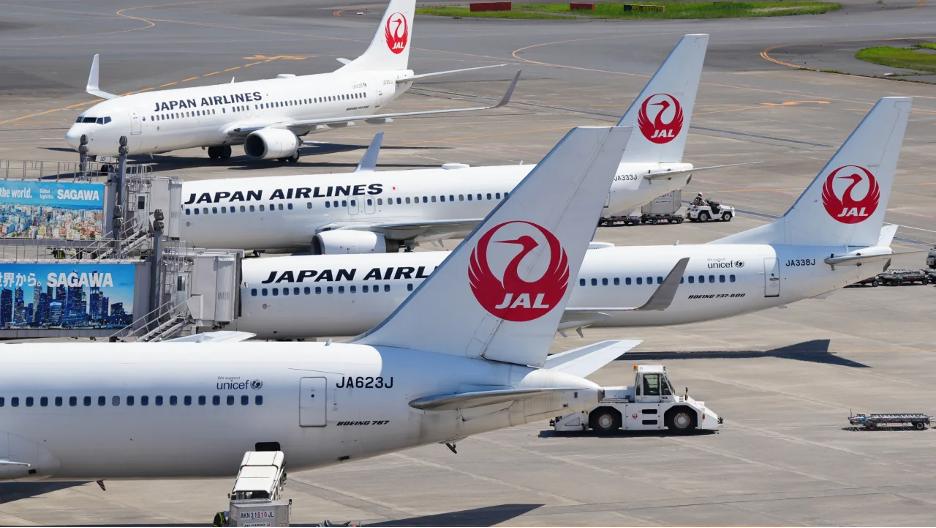 The two most famous sumo wrestlers of modern times are Hakuho and Asashoryu who are both Mongolians.  I have been around the families of both sumo champions as I once went wolf hunting with Hakuho's father, and I arranged for Asashoryu's mother to visit Bumrungrad Hospital in Bangkok for medical treatment.  A Mongolian friend and I had a small medical clinic in Ulan Baatar, Mongolia to refer patients for treatment.
Once I was seated on an Air Mongolia aircraft in Ulan Baatar awaiting boarding to complete, while sitting across the aisle from a miserable lawyer with whom I had fought all week.  It turns out Asashoryu walked up and pointed to the lawyer's seat with some degree of force.  The lawyer asked for my advice for the first time since I met him.  I responded, "Give up the seat and live," as Asashoryu was one rough character.  A young Hakuho then entered the cabin having to walk sideways to clear the aisle seats going back to coach.  He was carrying Asahoryu's man bag as kimonos are a bit shy of pockets.  The sumo boss was comfortably seated in first class as well.  Asashoryu is shown on the right below and the younger Hakuho on the left.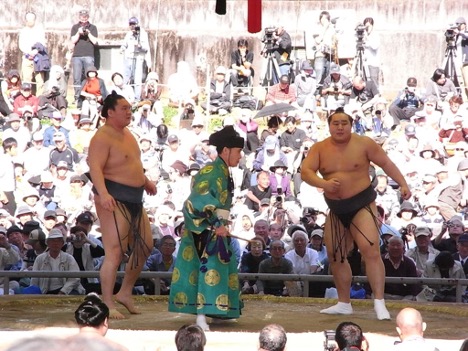 There was a strong competitive spirit between the younger and more gentile Hakuho and Asashoryu who did not follow the more traditional sumo ethics and character.  Asashoryu's "bad boy behavior" finally caught up with him when it was proven that he had been gambling on his sumo matches.  Hakuho had the best record against Asashoryu defeating him fourteen of their twenty-seven matches.  A Mongolian friend of mine in Japan confided that the wrestlers usually were not overly bright and entered the dohyos (rings) as youngsters without receiving much, if any, education.  Nonetheless, wealthy Japanese paid exorbitant amounts of money to associate with them.  It is a tough line of work, but it can be financially rewarding for those wrestlers who rise to higher ranks.  It is one of a few sports that rank the contestants after each tournament in which they compete.  Consistent losing performance can force them to retire as they lose face by being demoted into lower categories.   Hakuho is shown below in his white champion belt opening a sumo tournament.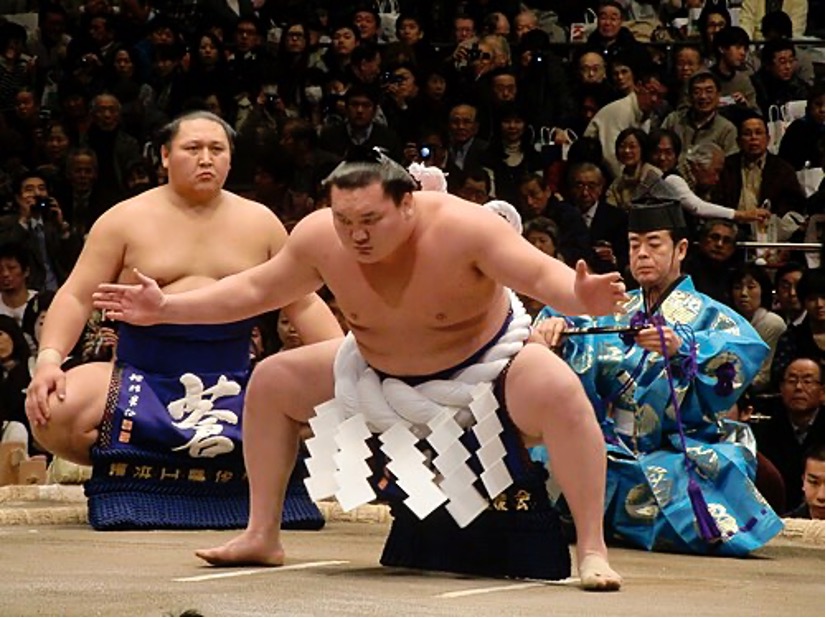 Now, we will take a turn into another bit of Japanese history as we once took the U.S. Ambassador to Mongolia on a tour of our oil facilities.  We had discovered oil in the barren eastern steppes of Mongolia not too far from Halkan Gol, the famous WWII battle ground, where the Japanese army was defeated by Russian and Mongolian forces.  It was kind of a whimsical trip involving copious quantities of vodka while flying around in an ancient Russian helicopter and shooting at wolves. 
There are some interesting observations from the image below.  Only six people in the lineup were actually in the helicopter when we went down so we were not overloaded. The U.S. Ambassador is the guy in the light blue jacket, to his left is a Mongolian Petroleum Authority officer, I am on his left and the remainder of our party are wearing the jackets further to the left. Yes, you got it right, we crashed in the remote steppe with no idea where we were as it preceded both modern navigation and communication equipment.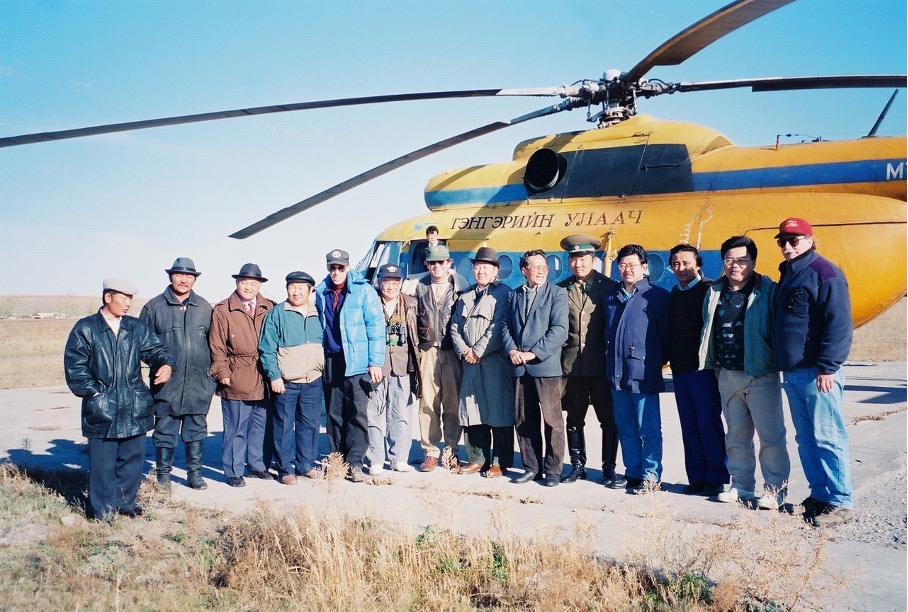 Fortunately, we did not burn but that could be due to a bad fuel guage indicating we had more fuel than thought given the detours flown to shoot wolves.  After several hours and approaching darkness, two guys came along who were hunting wolves and took us to the nearest place of habitation which was an abandoned Russian forward airbase.  It was a pretty grim setting to be isolated incomunicado from the outside world save a telex to Ulaanbaatar enabling us to request parts to rebuild the helicopter.  Most people reacted well to this adventure except one who felt he was more privileged.  Apart from the flying caution takeaway, have a look at the Mongolian military officer and you can see that riding horseback your entire life does cause bow legs.
Over the years, there have been many other aviation close calls with helicopters as well as fixed wing aircraft ranging from Laos during the troubles to otherwise boring flights into Atlanta when we lost a wheel on take off from London.  Another interesting near fatal crash occurred on the final approach into the primitive airstrip shown below in Ulaanbaatar, Mongolia on a more festive occasion to celebrate the return of a Buddha relic by an Indian llama.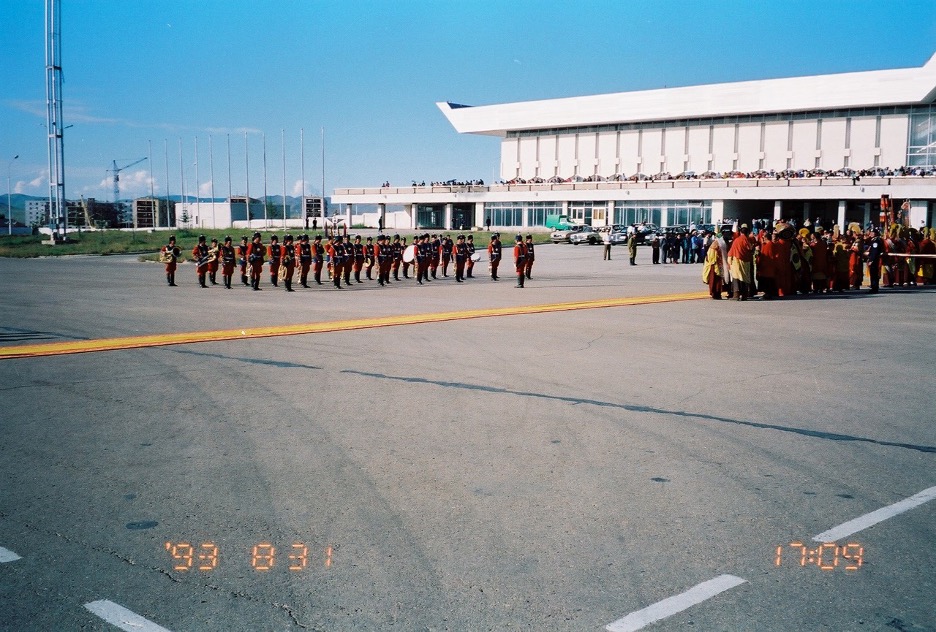 On a later trip, an Air China pilot who had no sense of how to fly a plane attempted a one wing/one wheel landing.  Even in the dark on his approach, it was obvious to some of us that we needed to take out our passports for identity purposes.  Moreover, no one passed out water-soaked hand towels like they did in Atlanta for a crash landing. Fortunately, the Chinese pilot woke up, pulled up and circled for a very long time before making an approach.  My neighbor across the aisle asked what he was doing, and I responded "cleaning his pants" though he was likely burning fuel as we had experienced in Mongolia as noted before.  Nonetheless, the Chinese news media blamed the incident on Mongolia which was humorous.
Recently, we made a very rough descent in a massive rainstorm in Teterboro, New Jersey that reminded me of an aviation maxim – "There are bold pilots and old pilots, but there are no old/bold pilots." Keep that in mind the next time you pass the cockpit of the airplane you are boarding.    
Shop Our Latest Picks!
EVERYTHING MUST GO - 50% OFF ALL STORE ITEMS
*Not including furniture and fixtures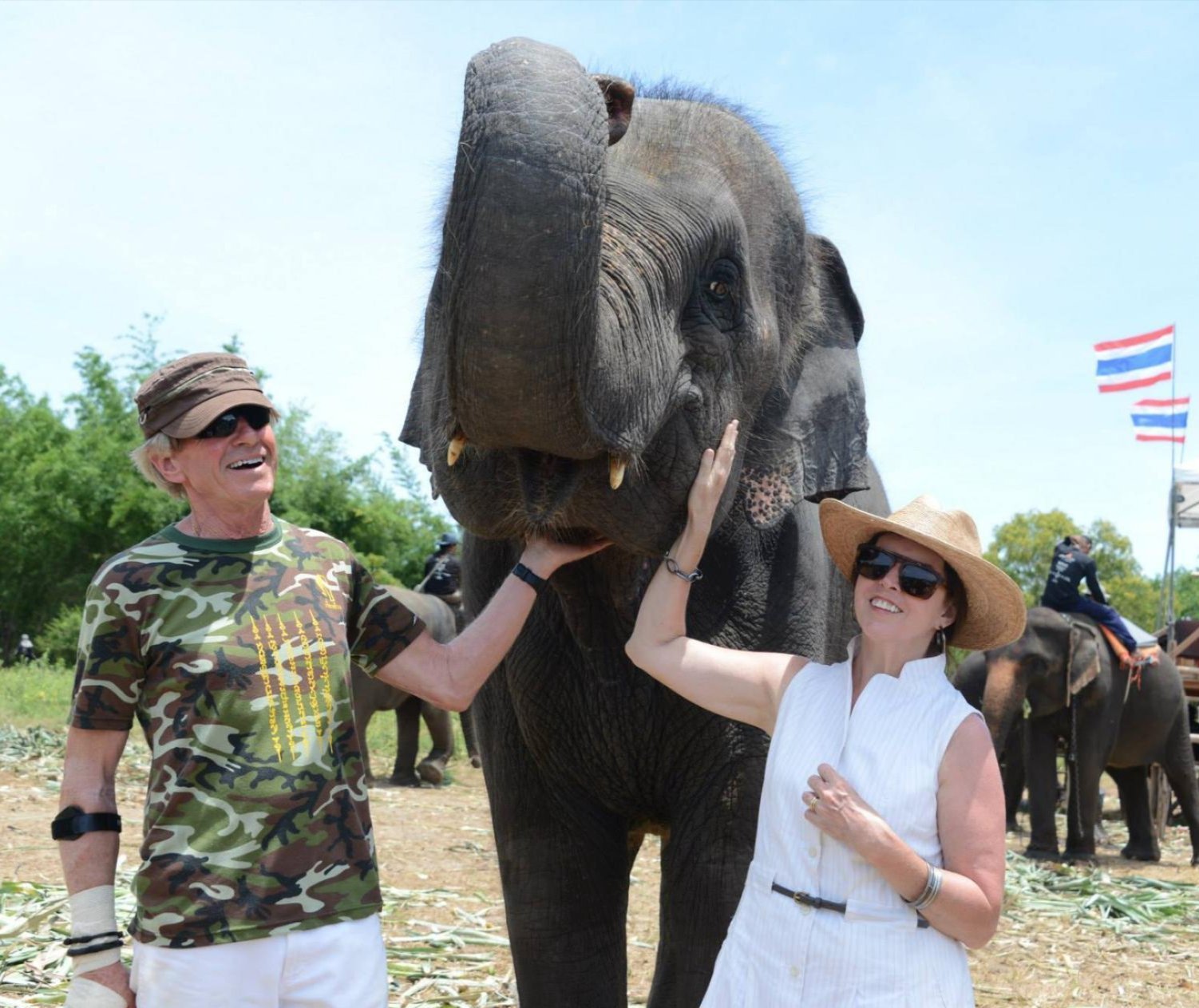 A Purchase That Means More.
Our products are from Asian elephant countries offered to fund programs for the families and their 300 elephants in Baan Ta Klang, northeast Thailand. Your support enables us to provide two native English-speaking teachers in the village as well as underwrite a portion of the veterinary services for the elephants.