GANDHI'S TEACHINGS
ARE LONG GONE
It seems like I have had a separate career of being on Indian oil and gas company boards for the past twenty-five years or so.  What can I say, I like the people, the food, and the controlled chaos of life in India.  Over the years, I have known many Indians ranging from wealthy oligarchs to fellow associates throughout India.  The sad aspect of this period is the recent use of religion by politicians to strengthen their own personal positions.  This trend is by no means unique to India but the degree of departure from the purity of Mahatma Gandhi to today is unprecedented in modern times.
Ramachandra Guha recently published an article in The Financial Times entitled India Against Gandhi with the introduction being "He was the 'father of the nation,' the hero who led the struggle for freedom against British rule. But 75 years after his assassination, his legacy is being rewritten by those in power."  Interestingly, there are more statutes of Gandhi, the apostle of peace, in the United States than anywhere although it is a country he never visited.  The Gandhi statute below is in London, home of the former colonial empire.  Gandhi had a great impact on colonial rule that led to Freedom at Midnight, thereby providing the people of India a democracy. 
Prime Minister Modi is clearly the controlling political figure in India.  He is a long-standing member of the Hindu Bharatiya Janata Party (BJP) and served as Chief Minister of Gujarat for some thirteen years before becoming Prime Minister of India in 2014.  As shown below, Modi meets his mother after winning the elections and becoming Prime Minister of India in 2014.  She is applying a red bindi smudge to his forehead representing the third eye in Hindu mythology.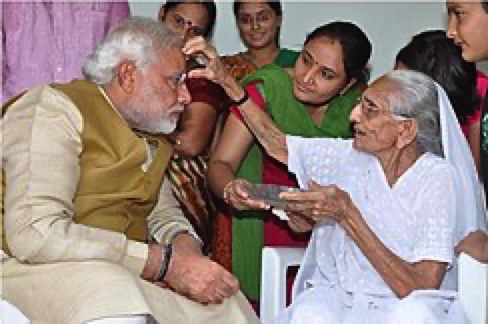 Modi was returned to the Prime Minister's office in 2019 with an overwhelming majority.  An Indian friend of mine whose father is very close to Modi said Modi had told his father that he was going to turn everything upside down to strengthen the position of the Hindu faith at the expense of all other religions in India.  In the same year, Modi paid his respects to both Gandhi and Gandhi's assassin, Nathuram Vinayak Godse. Godse was a Hindu nationalist and member of Rastriya Swayamsevak Sangh (RSS), a right-wing Hindu paramilitary organization where Modi also served for many years.  Needless to say, over the past four years, Modi's prediction has come to pass.  The charismatic leader is shown below addressing the Nation on India's 76th Independence Day in Delhi from the ramparts of the Red Fort on August 15, 2022. 
By way of historical reference, Gandhi believed that India belonged to all its citizens be they Muslim, Hindus or whatever.  We sometimes forget that Buddhism began in India and migrated from there throughout many parts of Asia.  Nonetheless, Hindu nationalists have made Hinduism, an ancient religion without a common text, an overreaching set of beliefs and no single place of pilgrimage to become a homogenous, organized faith.  Therefore, the assassin of Gandhi has been lauded with shrines and homage from Hindus as shown below.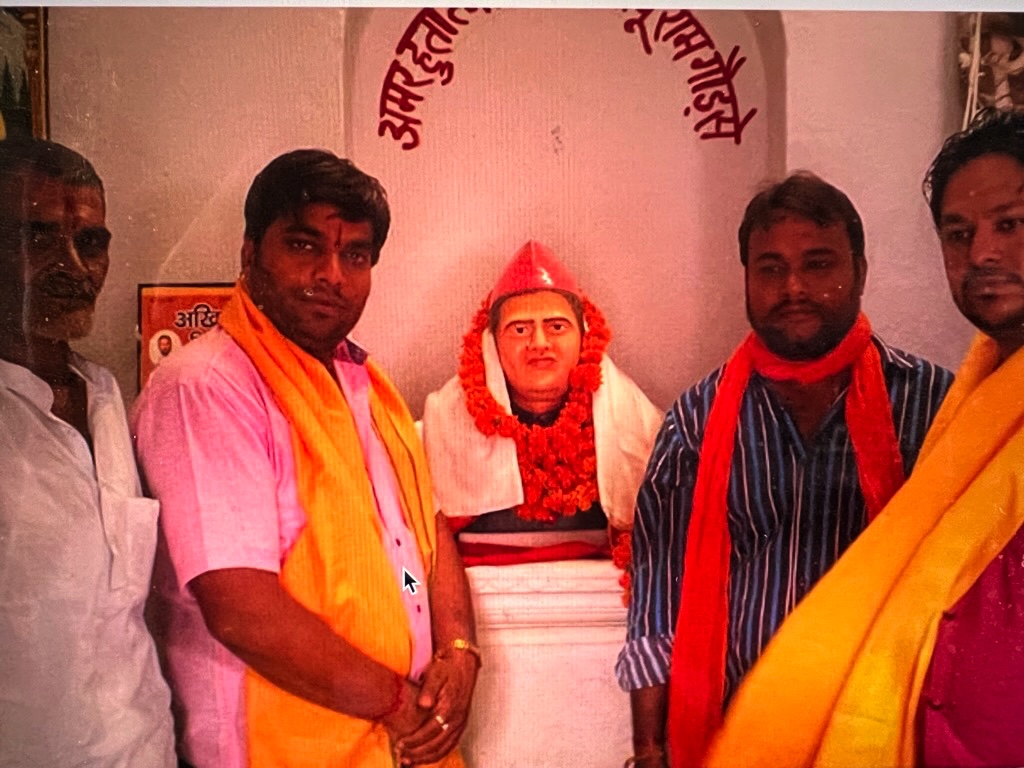 The Conversation published an article entitled Why India's Hindu Nationalists Worship Israel's Nation-State Model.  India's Hindu nationalists and the Israeli right have a strong mutual affinity.  Back as early as 2017, Binyamin Netanyahu welcomed Modi to Israel with these words: "Prime Minister Modi, we have been waiting for you a long time, almost 70 years…We view you as a kindred spirit."  Both premiers were battling for re-election in 2019 and regularly referred to each other on Twitter as "my friend Narendra" and "my friend Bibi."  As shown below, the two leaders obviously like each other. Israel provides arms to India and the Hindu nationalists are in awe of the Zionist model of Israel.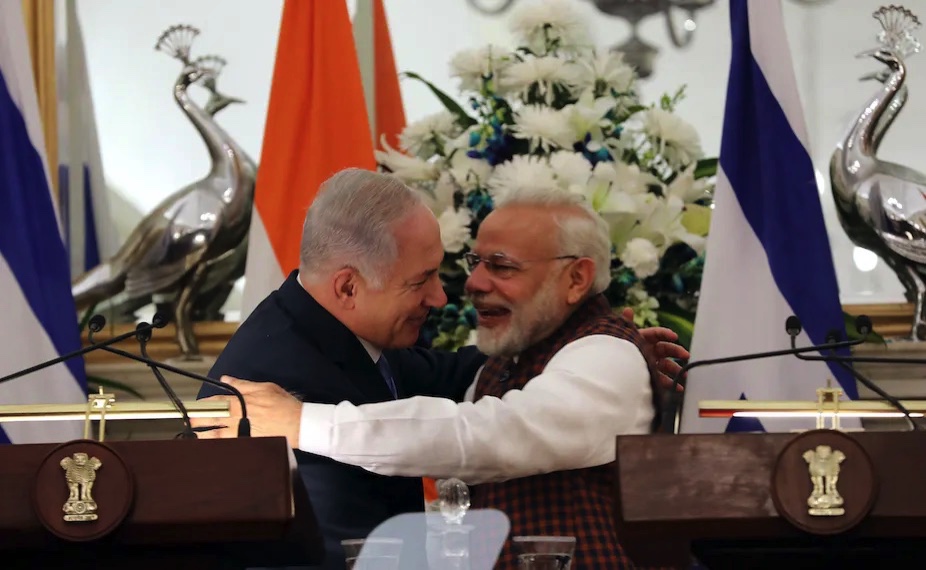 The traditional rival of the BJP is the Indian National Congress or Congress Party, which was led by Nehru as the first prime minister of India and supported by Mahatma Gandhi at the time of India's independence.  The Congress Party, which was framed on the principals of equal opportunity for all, became the model for other nations created out of the British Empire.  It ultimately evolved to be the party led by Indira Gandhi and most recently by Rahul Gandhi, the grandson of Indira Gandhi, and son of Rajiv Gandhi, both of whom were assassinated.   
On January 30, 2023, Rahul Gandhi completed a 2,540-mile march across India and its territories to re-energize the Congress Party in anticipation of a campaign next year against Modi.  Rahul is shown below speaking in a snowstorm in Kashmir at the conclusion of his 136-day trek.  The stated objective of his "Yatra" or journey was to unite India, to come together and strengthen the nation in anticipation of an election next year.   Nonetheless, the traditional driver in any electoral process will be the strength of the Indian economy which we will address in the future.
Within the past few days, Rahul Gandhi, was disqualified as a member of parliament.  He was sentenced to two years in prison for a comment he made about the surname of Narendra Modi three years ago.  He was granted bail and will appeal the verdict.  The Congress party led protests against this "showstopper" event to the effect that democracy "is in danger" which may be a gross understatement.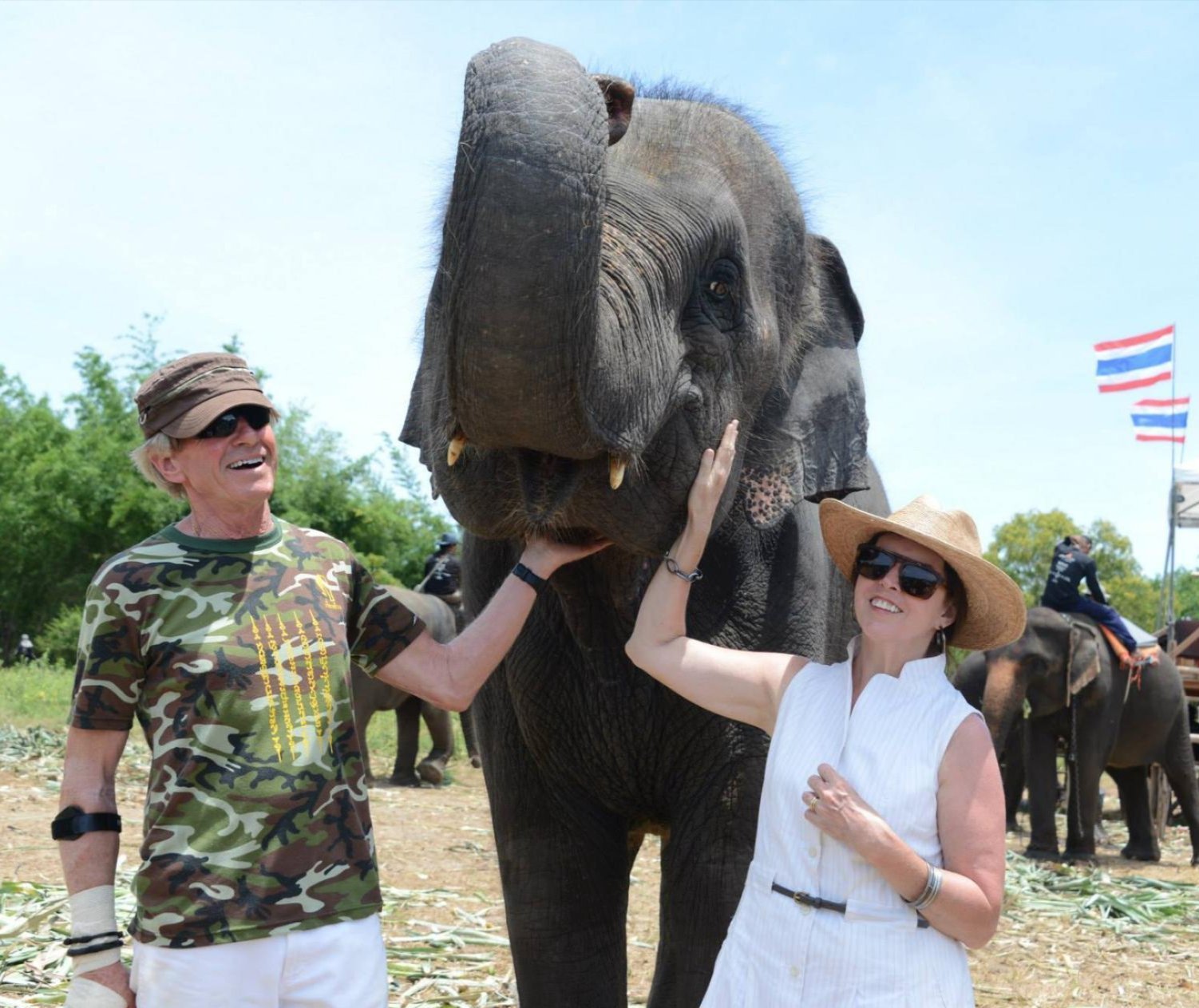 A Purchase That Means More.
Our products are from Asian elephant countries offered to fund programs for the families and their 300 elephants in Baan Ta Klang, northeast Thailand. Your support enables us to provide two native English-speaking teachers in the village as well as underwrite a portion of the veterinary services for the elephants.